Saved
Graeme Leak
Scissor Kick
ZOOTV
–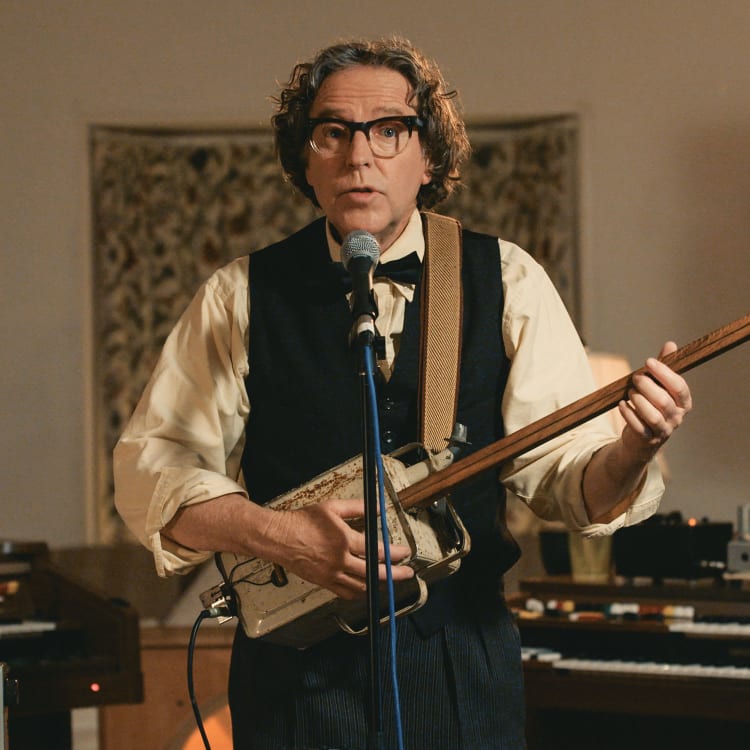 Saved—no relation to the controversial Edward Bond play of the '60s—is described as a "retro-mechanical performance" producing "a meditative, musical journey through the mundanity of everyday life."
The meaning of the first part of this is clear at a glance. Graeme Leak, in shirt, bow tie and waistcoat, is in a small room surrounded by electrical equipment that would now be considered out of date. Dominating the space are two Yamaha organs from the 1970s, their rotating speakers ripped out, exposed and hung on the walls but still working for that 'Lesley' effect (I think, for the technically minded, one had a rotating horn and the other a rotating baffle, but I may be wrong on that).
Play-in music and announcements and some backing speech and sound come via a Crown portable stereo radio cassette player. He also uses the sounds from untuned transistor radios, a glass jar rolling on a plate highly amplified, an electric whisk and a one-string bass guitar that appears to have been made from a can of cooking oil.
After an opening of some cheesy organ recital melodies, the music becomes more experimental. This is live-looping, now trendy, but with technology from four or five decades ago: the rhythm and autochord generators from the two organs are set against one another to produce interesting polyrhythms, while chords are held by securing keys on the keyboard down with cocktail sticks with little flags on them.
The sound is adjusted gradually using the drawbars and level and rhythm controls of the organs and added to with some cymbals and other objects around the room. Over the top, Leak repeats banal phrases from everyday speech, spoken or sung, through a microphone. All of this is delivered with slow but deliberate showmanship and Buster Keatonesque deadpan looks to camera.
The music produced is intricate but ambient and sounds great in isolation, but the process of creating it is fascinating to watch, and often amusing, if not laugh-out-loud funny. Fifty minutes of watching someone tinker with buttons and dials and various outdated household technology may not be everyone's cup of tea, but it certainly kept my attention and kept a smile on my face.
Reviewer: David Chadderton