Sleeping Beauty
Andrew Ryan
Anvil Arts and UK Productions
The Anvil Theatre, Basingstoke
(2010)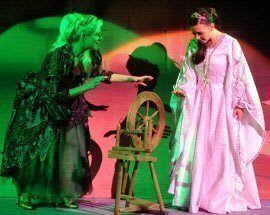 The Anvil's pantomime is a true festive feast of fun for all the family. Director Maurice Lane's Sleeping Beauty is a spectacular show filled with dazzling special effects, beautiful costumes and a dream cast.
Wendy Craig is delightful as the Good Fairy Butterfly with a clever butterfly lighting motif announcing her entrances. We are all invited to the baby Princess' christening but someone has been forgotten. As the Evil Fairy, Abi Titmuss is suitably nasty as she flies in, quite literary, to seek her revenge for not getting an invitation and places a curse on the baby.
Thankfully the Good Fairy manages to lessen the curse and so if she were to prick her finger on a spinning wheel she and the entire kingdom will fall into a sleep for one hundred years rather than her dying.
Andrew Agnew (best known as PC Plum from CBeebies' Balamory) perfectly plays the part of Silly Billy. He had the whole audience on his side from the very beginning and was certainly the children's friend as he narrated the plot and kept everyone involved in the story. He was a joy to watch.
Every panto needs a Dame and Nick Wilton was the superlative Nurse Kelly with the most outlandish costumes and so many of them. The rapport between Silly Billy and Kelly was effervescent.
The jokes and one liners came fast and furious, some for the kids and some for the adults: "We need to make five different types of cakes for the Christmas feast", says Nurse Kelly and lists four of them. When asked what the fifth cake was he says, "stomach (c)ake". It was that sort of show!
There is good old-fashioned slapstick in the kitchen as dinner is cooked, fun with water guns, pyrotechnics, a clever mirror scene (I won't spoil it) and even Dr Who's Tardis made an appearance.
Sleeping Beauty was beautifully played by Sarah Louise Day who eventually wins her Prince (Shaun Daulton) much to the eccentric King's delight (Michael Chance)
There are many magic moments including some stunning computer generated animation as the Prince makes his journey through one hundred years to the future. Look out for the enchanted castle growing before your eyes and being covered in thorns and the Prince battling with a giant fire-breathing dragon - breathtaking.
There is some striking choreography (Sarah Louise Day) with a well drilled juvenile chorus from the Kelly Hopkins Theatre Arts and Basingstoke Academy of Dance. Their tap dancing toys were terrific and they all seemed to be enjoying themselves. Special mention to the adult villagers who worked their socks off.
The music included such songs as "Is This the Moment"; "I'm a Hero" to "Living the Lavida Loco", all well sung under the very capable hands of musical director, Martyn Cooper.
There was bags of audience participation including one unexpected moment when the Evil Fairy said, "You won't like me when I'm angry" and a young voice from the audience retorted, " I don't like you now." Hilarious.
This was one riotous energetic show that certainly had no one 'sleeping' in it so, as the finale song said, "Don't stop Believing", join in the fun - Go!
Highly recommended.
Runs until January 2nd
Reviewer: Robin Strapp