Sleeping Beauty
Michael Harrison with music and lyrics by Olly Ashmore
Qdos Entertainment
Birmingham Hippodrome
(2009)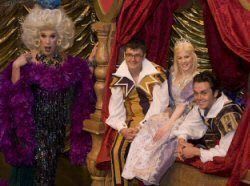 This Sleeping Beauty starts not with the usual christening, but twenty one years on at Princess Beauty's birthday party. If she can stick it out for the next twenty four hours, the curse of the spinning wheel will be no more and everyone can heave a huge sigh of relief.
That would, of course, make for a pretty boring pantomime, so thank goodness for wicked Carabosse (Ria Jones) giving Prince Daniel (Ray Quinn) a gift of a spinning wheel to present his beloved Beauty (Lucy Evans) with at the party. Disaster strikes and she does indeed fall asleep for one hundred years, along with everyone else in the kingdom.
This is where the problem usually occurs in Sleeping Beauty the panto - what to do next? A one hundred year sleep is pretty boring, so hats off to Qdos for a great storyline in which Muddles (Joe Pasquale) and Lady Passionella (Ceri Dupree), having been sacked from the castle and in a different kingdom at the time of the pricking, escape the curse and help the Enchantress (Lucinda Shaw) to defeat Carabosse, allowing Pasquale and Dupree to take charge of the plot and deliver a wonderful show.
Pasquale is perfect in the role of lovable fool Muddles with a soft spot for Beauty and seems to cough up a furball every time he tries to tell her. The kids love him, the parents love him, even the grandfolks love him. His funny antics go down a treat and prove that he really is one of the best pantomime performers we have.
Ceri Dupree as Lady Passionella most definitely lives up to the title of most glamorous Dame in the world, her outfits getting bigger and better on every grand entrance. There are too many to choose a favourite from, but her fishbowl dress complete with strategically placed seaweed is highly inventive. Dupree and Pasquale work well as mother and son comedy duo and allow that chaotic aspect of panto to thrive.
Comedy of course is only one aspect of this production and a review would not do justice to this glorious pantomime were it not to mention the array of technology used. As soon as the curtain goes up Carabosse flies around the stage, as does the Enchantress, Muddles flies over the audience at the end of act one, there are flashes and bangs, smoke, 3D sequences, snow over the audience and a spectacular rain effect. Trying to throw Muddles off course as he quests to rescue Prince Daniel from Carabosse's lair, as only love's true kiss on a winter night will break the curse, Carabosse conjures up a storm. Rain falls on stage and when Muddles ponders which way to go, the words "Go Right" are spelt out behind him in the rain as it falls. More words follow and the audience help Muddles on his adventure by reading the watery subtitles aloud.
If there is anything wrong with this production it would have to be its length; almost a whopping three hours. Although Ceri Dupree's impressions of Amy Winehouse, Tina Turner, Shirley Bassey, Camilla Parker Bowles, Katie Price and The Sound of Music's Maria are enjoyable, they do go on for a little too long and are too many in number. Likewise the 3D sequence of thorns growing around the castle complete with Audrey II style foliage drags as creepy after crawly continuously jump out at the audience. There's also a balloon ballet thrown in for good measure appearing out of nowhere, adding many more minutes to the show's already long running time and must only be there to mask a long scene change.
This is a panto of epic proportions complete with glitter, glamour and giggles galore. Beautiful sets and costumes, a talented cast and ensemble and a plethora of special effects mean that this production easily rivals even the biggest West End musical.
Plays until January 31st 2010
Reviewer: Simon Sladen