Sleeping Beauty
Paul Hendy
Evolution Pantomimes
Yvonne Arnaud Theatre, Guildford
(2010)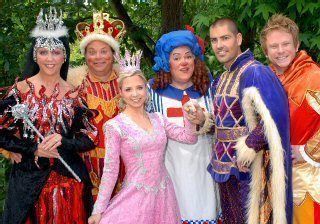 There is always a lovely friendly family feeling at a Guildford pantomime. From the moment you walk (through the snow) into the foyer the place is buzzing with activity and expectation, and what makes it extra special is that it attracts such a diverse audience, not just the tiny two and three year olds their faces shining with wonder, and not just families coming for the sake of the children, but also a large number of both young and old adults, none of them feeling the need of a child to give them an excuse to come.
This is the first time since the early nineteen seventies that Sleeping Beauty has been performed here, so when Merlin's young friends troupe down the aisles asking for a story it is appropriate that he has to blow off clouds of dust from the book before beginning, then the traditional story unfolds before us with the blessings of two fairies and the curses of a third and of course happily ending with a magical, glittering wedding.
Nichola McAuliffe is the Wicked Fairy, so deliciously and extravagantly wicked that the boos begin immediately. "I love the boos," she tells us. She did too when playing a good fairy who kept a bottle of 'Fairy Liquid' down her cleavage. Her character changes constantly throughout the show, and her accent with it, from South American theatricality to streetwise, single-mother, schoolgirl - "You's so disrespectful, innit" - and taking in Scottish spinster, Irish witch conjuring up a huge and very realistic dragon and becoming almost sweet and lovely at the end. McAuliffe is a brilliantly clever actress and very, very funny.
Prince Charming (whoooo!) is Shane Lynch of Boyzone fame - no stranger to pantomimes (this is his fifth) but about to take to the road again in February on a UK tour with the band. Meanwhile he appears to be thoroughly enjoying his role as the Prince of Donegal and his first song has the dancers performing a very classy tap routine in the style of Riverdance as a tribute to his Irishness.
The family feeling is carried through from the production company. Evolution is composed of writer/director Paul Hendy, his producer wife Emily, her mother Helga Wood is the set and costume designer and even five year old Freddie is brought in as comedy consultant. On the Guildford side, Gerry Tebbutt, Head of Performance and Musical Theatre at Guildford School of Acting, directs with eight of his students forming a very professional and talented Ensemble, and the team of panto babes who have been auditioned from local schools perform with amazing expertise
There are the expected corny jokes (very well received), a very wet section in a bathroom which soaks the hapless Merlin and the King Gordon, water coming from very unexpected places. Toys become alive in the nursery, the essential scary ghosts (with attitude) make their appearance and - a nice touch I thought - it is the princess Beauty fighting off the witch's 'goolies' and killing the dragon while the prince looks on admiringly.
Beauty is a very agile, adorable pert and pretty Sarah-Jane Honeywel,l well-known to the young ones from CBeebies on TV and somehow reminding me of a very young and innocent and a little less curvy Barbara Windsor. Nurse Nellie is our usual great Dame, Royce Mills. King Gordon is played by local lad, and presenter and director of Eagle Radio, Peter Gordon, and entertainer Lloyd Hollett certainly entertains as Merlin with constant chat and wisecracks.
Music is by Steve Hill and his four-piece band, and that sums it up for another year - terrific fun, enjoyed by young and old who all get into the spirit of the occasion and a great time is had by all. A wonderful run up to Christmas and a way to forget the weather.
Until Sunday, 9th January, 2011
Siomon Sladen interviewed Paul Hendy in the run-up to the panto period
Reviewer: Sheila Connor