Sleeping Beauty
Iain Lauchlan and Will Brenton
Imagine Theatre
The Hexagon, Reading
(2010)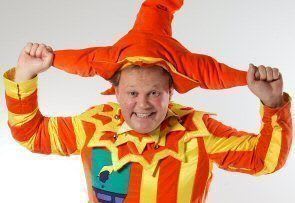 Sleeping Beauty has grown in popularity over the past three years and is now one of the top five pantomimes produced this season. Imagine Theatre have always championed this title and this year they present their version of the tale at the Hexagon, Reading, for the very first time.
When wicked Carabosse misses out on an invitation to Princess Belle's christening, she plots to ruin the girl's life. Her evil gift is death on her 18th birthday should the Princess prick her finger on a spinning wheel, but luckily for King Bumble's court, good Fairy Azuriel is on hand to ensure that dreams, rather than death, will occur.
The main difficulty with Sleeping Beauty is the obligatory 100 years sleep. Whereas some productions get this over and done with straight away to allow a quest narrative to ensue, Imagine's production rightly takes its time to establish the story and characters.
The audience learn how Princess Belle and Prince Valiant were friends from the start by way of a lovely flashback sequence charting their relationship from childhood to the present day and the first act ends, rather than begins, with Belle's 18th birthday party and the pricking of her finger. This leaves the interval for the 100 year sleep, but where to go from here?
Writers Iain Lauchlan and Will Brenton make their Comic, Josh the Jester, an inspiring inventor and it just so happens that he is on hand to save the day. Armed with Josh's time machine invention, Prince Valiant, Nurse Nanny Nora and, of course, Josh, fast forward to the future courtesy of a vibrant UV sequence in order to defeat Carabosse, awaken the Princess and save the day.
Children's favourite Justin Fletcher as Josh the Jester is a most lovable courtier always up for a giggle. The children in the audience love Fletcher's many facial expressions, impressions and shout-outs and were particularly bowled over by a gloriously messy slosh scene.
It is a rare treat to see such a large amount of slosh onstage and for Imagine, this is a vital part of the pantomime experience. There is no skimping on mess and during a wacky cooking scene both Josh the Jester and Nurse Nanny Nora, played by Jolyon Dixon, get caked in the sloppy stuff.
Helping them in their messy-play is Howard Gossington as Fusspot. Gossington is a versatile actor who also performs the role of Carabosse's wicked sidekick Slim. His comic and eccentric reactions sit well in a production full of frantic fun and plenty of fart gags.
One thing that sets this production apart from many others is its heroic female Principal Boy in Clare Waugh and the fact that Carabosse does get killed by him. Most productions shy away from such death and destruction, but along with the glorious stage filling dragon upon which she rides, Carabosse well and truly dies by the sword.
The junior ensemble are truly the smiliest around and any one of them could easily achieve a successful career in the performing arts. Alongside their ball changes and pas de basques, the adult ensemble also execute their energetic choreography, courtesy of Adrian Edmeades, with great skill and passion, although the girls' skirts are a little too short for a family pantomime.
Lauchlan and Brenton have written a plethora of original songs for the show, and although these are delightful up-beat numbers, the microphone levels being as low as they are mean that it is extremely difficult to catch their witty lyrics.
The usual song-sheet rounds off the proceedings followed by 'Share The Love Around' from Sister Act. After two hours of fun and games, the audience get up on their feet and boogie to a song which just might become a panto staple in years to come, having very much enjoyed this year's festive offering from the Hexagon, Reading.
Playing until 2nd January 2011
Reviewer: Simon Sladen