Scaramouche Jones or the Seven White Masks
Justin Butcher
Passion Pit Theatre in association with Theatre Tours International
Wilton's Music Hall
–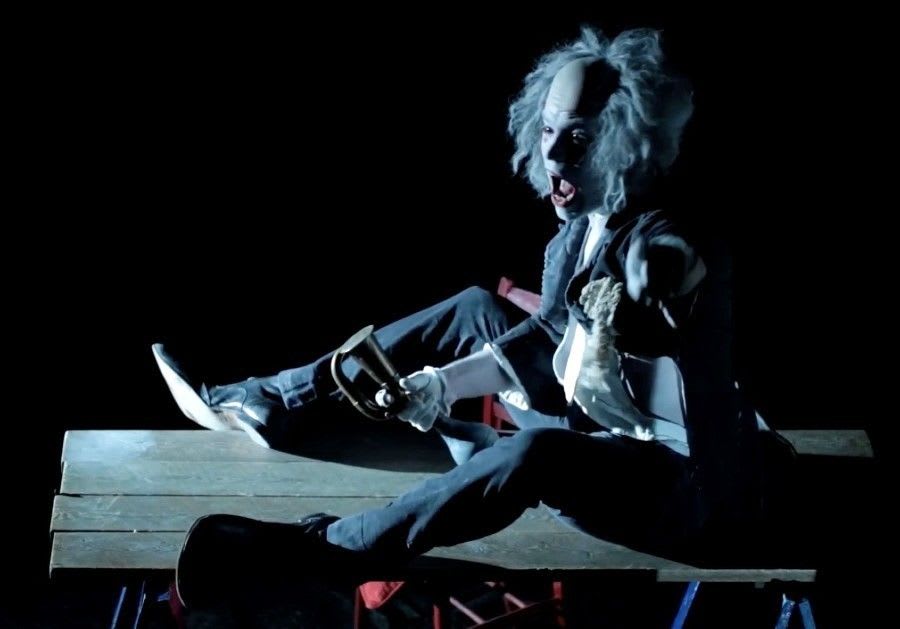 It was a hell of a century. Think of any atrocity, any great social struggle and you are likely to have landed in the 20th century. That troubled century has created some memorable monsters, but it has also generated some striking theatrical achievements.
Justin Butcher shows how this happens with a fitting symbol of that awful period, the clown Scaramouche Jones on the eve of the 21st century remembering his life, from his birth on December the 31, 1899 in Trinidad to an unknown English father and a gypsy prostitute later murdered, sold to a slaver who takes him across the world, married to a twelve-year-old girl to save her from police brutality, rescued into Mussolini's Italy by an Italian diplomat who fancies him, finding himself in a Nazi death camp digging the mass graves of people about to be machine-gunned, learning all the time visual and other ways to channel the suffering.
His clownish antics by the edge of the grave mocking the Nazi killers create a poignant scene. It is also the event that prompts the seventh painting of his face white, a mask shaped by the horror around him, the seven masks echoing the words of the melancholic Jaques in Shakespeare's As You Like It speaking about the seven ages of man.
Scaramouche Jones (Justin Butcher) explains to us on the eve of the 21st century that it takes "50 years to make the clown, 50 years to play the clown". And in his final remarkable mimed performance, we recognise the shape of that century passing.
There are few laughs in this story but many moving moments in a monologue that identifies the complicated madness of a terrible world.
Reviewer: Keith Mckenna