Scarborough
Fiona Evans
ASN Theatre Company
Etcetera Theatre
(2010)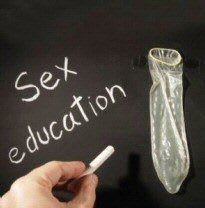 First seen on the Edinburgh Fringe in 2007 and then at the Royal Court the following year in expanded form, this play about a couple in Scarborough for a weekend fling gets a further revision in a Camden Fringe production brought down from Leeds. It is produced and performed by students just finishing their course at Acting School North.
Previously it was presented as a sequence of scenes that were then repeated in the second half with the male and female roles reversed. Here, director Rogello Nevares has arranged them as an alternating sequence, which increases the interest because you don't already know the outcome. The repetitions use an almost entirely identical script and seen one scene at a time this emphasises the subtle differences that change of actor and change of gender produce at every point.
This is no ordinary dirty weekend for the couple(s) are teacher and pupil and the pupil, at least when the play begins, is under-age. They not just crossing taboos about those in loco parentis but are seriously breaching the law, which is why the older partner is wary of going out.
Evans presents us with nearly-sixteens who may be physically and sexually grown-up but not yet mature enough to see beyond their excitement to the realities that make their relationship untenable and there is a defining teenage moment when the student sits in front of a mirror squeezing his/her zits.
Perhaps inevitably Drew Murray's romantic boy pupil suggests a callow innocence that is less apparent when the role is played as female by Charlotte Lowrey who seems more self-centredly thoughtless. As the PE teacher Marc Singh suggests a solid reliability, a mature rather than a pop-star attraction, strongly physical without being overtly sexy. As the female teacher Mez Galaria's stunning looks would make any head turn, she has the sort of eyes that help make an actress, but she also delivers a strong well thought out performance.
Publicity for the show says all the cast learned all the roles and every permutation was possible and audiences would be invited to choose who is paired with whom. The audience I saw it with weren't given a choice but it could be a gay or lesbian couple or the straight pairing could be different. It would certainly be intriguing to see what differences that produced. Repetition however does risk dulling the concentration and that may be why I found the final scene and its repeat did not sufficiently mark the inevitability of what the teacher was doing, an inevitability which, of course, is foreshadowed by what we have seen in earlier scenes.
Run ends 18th August 20
Reviewer: Howard Loxton