Scar Stories
Patrizia Paolini
Battersea Arts Centre
(2009)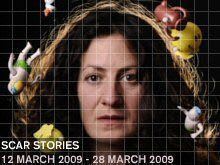 "I am hoping that in this hour something is going to happen," confides diminutive Italian Patrizia Paolini. "Of course, it is possible nothing will happen."
She's playing the averages on this point. Her meandering one-woman show, Scar Stories, skates over so many topics that, as the show goes on, it becomes statistically less and less likely that you'll leave without being affected in some way.
Loosely speaking, the show revolves around Paolini's search for a man. She has a scar on her chin; somewhere out there, she reckons, there must be a man with an identical scar. She's decided she's going to find him and kiss him.
To this end she's been out filming interviews with every scar-chinned man she happens upon in the pub. Each one recounts both the origin of his scar and the story of his first kiss. The stories range from falling out of taxis to falling foul of bouncers or landmines, and from chucklesome to uncomfortable.
Beyond the uniformity of the interviews, Scar Stories seems to have very little about it in the way of structure. In fact, it hardly feels like a piece of theatre at all. Staged in-the-round in Battersea Arts Centre's General Office - a cosily gloomy black box studio - it's more akin to an informal seminar led by an accessible but scatterbrained lecturer.
While her digital radio quietly broadcasts BBC Radio 4, Paolini wanders the space and rambles, in imperfect and sometimes incomprehensibly gabbled English, about love, sex, politics, life, strange encounters and scars. When she loses her thread or tires herself out, she plays us another interview on her TV/DVD combo.
Her monologues come across as streams of consciousness, taking the interlinked stories of her scar and her first crush, Franco the Communist, and blossoming outward from there in a tangential web of association. But some recollections are accompanied by rehearsed movement sequences that suggest a degree of premeditation. It's difficult to gauge how much is scripted and how much off-the-cuff.
The closest analogy is probably a stand-up comedy routine. Paolini most likely has goalposts to shoot for - anecdotes and ruminations she must get into the show - but how she reaches them is not predetermined.
The result, as is the danger with improvisation, is of debatable import, but is a tangibly warm and intimate experience. Paolini is eager for audience response: she searches out eye contact and encourages active agreement or dissension with her hypotheses. This is a two-way flow, a conversation.
Something of Scar Stories is bound to linger beyond the bounds of the auditorium, whether it's the themed stuff about scars as reminders of our vulnerability, one of the 10,000 other ideas Paolini flings out between goalposts, or the memory of Paolini herself: frank, uninhibited, her issues with the English language giving rise to some delightfully unusual turns of phrase.
Scar Stories may be an event of no great consequence, but it's an undoubtedly pleasant way to spend an hour - an hour during which, contrary to Paolini's fears, something, however unimportant, is bound to happen.
Until 28th March
Reviewer: Matt Boothman