Scenes from a Separation
Andrew Bovell and Hannie Rayson
Orange Tree, Richmond
(2005)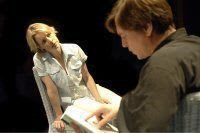 Good to see the Orange Tree lending support to contemporary Australian drama with this fluent staging of the first (and perhaps last) collaboration between two of Melbourne's most vibrant young talents who, independently, have already enjoyed some critical success in London.
Their play charts the blow by blow rift between Mathew and Nina, an apparently happily married professional couple, when new influences enter their lives.
Once a journalist, Nina gave up her career after marrying Mathew and starting a family. Now poised on the brink of a new project as a biographer she finds herself powerfully attracted to Laurie, the macho subject of her book.
Mathew, who runs the family publishing house with his scatterbrained brother Darcy, sees the company drifting into failure and his once loving relationship with Nina changing to habit and dull familiarity. Meanwhile his young literary editor Siobhan, importing fresh ideas and new directions, presents both an exciting intellectual and sexual challenge.
But for Nina, loyalty and trust are the only currency of a good marriage, and soon Mathew's clothes and clobber are raining down from an upstairs window, a scene that marks the pivotal moment when the neglected Nina has finally had enough — an episode that will pop up again in a different context after the interval.
According to an interview, reprinted in the Orange Tree programme, the authors found the joint writing process tough going. Andrew Bovell was keen to tell Mathew's side of the story and the events leading to the break-up, while Hannie Rayson was determined to have the last word.
This meant that she wrote the second and (it must be said) stronger half of the play in which we watch how Nina's life has been transformed with the discovery of a new spirit of independence and selfhood, while Mathew droops about in a wife-less vacuum.
The Orange Tree staging is another collaborative process. Its two young directors Phoebe Barran and James Kyle Wilson, colleagues now ending their year's trainee stint at the Orange Tree, at first pondered whether she should direct the Nina story, while he took responsibility for the Mathew-dominated scenes. Instead they wisely pooled their talents for this coherent, well-paced in-the-round production that speeds entertainingly through its two and half hours running time.
Interleaved between family and business scenes, they employ the clever device of first placing Martin Ritchie's self-centred Mathew at the steering wheel of the family saloon as the couple share desultory, introspective conversations. But after the interval Julia Webber's Nina firmly takes to the driving seat, bringing a sharper, more pressing edge to their talk, a witty metaphor for most marriages, whether or not in a state of breakdown.
Both in writing and performance the evening also carries a powerful Australian flavour of tough informality and candour, first seen in Stephanie Richards' portrayal of the go-getting Siobhan as an 'opinionated smart-arse' who alone stands up to Mathew's steamroller methods of management.
It is also warmly realised in Katharine Bridekirk's fine portrayal of an Aussie matriarch, stranded on the outside of the marital dispute, and by Andrew McDonald as the swaggering Laurie, a former Black Prince businessman now turned philanthropic White Knight, who lights a spark both for Nina and for the play.
"Scenes from a Separation" runs until Saturday 25th June
Reviewer: John Thaxter