The School for Scandal
Richard Brinsley Sheridan
Northern Broadsides
Theatre Royal, York, and touring
(2005)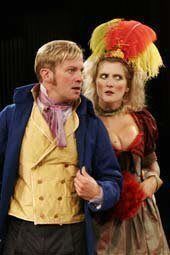 Northern Broadsides doing a Sheridan play - some mistake, surely? The company best known for its down-to-earth Shakespeare productions has also tackled Greek tragedy, Tony Harrison's verse plays and Victorian melodrama, but Restoration Comedy is a new and rather unlikely undertaking. It's also a remarkably successful one.
Director Barrie Rutter (who also gives an unusually restrained performance as Sir Peter Teazle) and designer Jessica Worrall have dispensed with the Mozartian elegance we usually associate with the genre. The savage caricatures of the great satirist James Gillray obviously influenced the costume design, and Sheridan's coterie of vicious gossips have never looked nastier - lousy (in both senses of the word) wigs, exaggerated costumes in Liquorice Allsorts colours, and grotesque makeup for Crabtree and Backbite (the latter makes Julian Clary look downright dowdy). I'm also willing to bet that this is the first production in which Lady Sneerwell uses a chamberpot, although at least she has the decency to do so behind a screen!
The actors, as we have come to expect with Broadsides, use their own regional accents. This inevitably has the effect of blurring the social distinctions between characters, but it's a fascinating change from the traditional over-stylised approach to Restoration comedy.
The production is an almost non-stop cavalcade of superb comic performances. Sally Carman's Lady Teazle, all squeaky voice and startled expression, teeters across the stage like a badly jointed doll having a bad hair day. Sara Poyzer revels in the role of the ghastly Lady Sneerwell, a woman whose personal hygiene is almost as deplorable as her moral standards. Andrew Whitehead and Andrew Pollard excel as the uncle-and-nephew team of gossipmongers Crabree and Backbite (Pollard, whom Broadsides fans will remember as the tallest William ever seen in The Merry Wives of Windsor, sports an exotic Mohawk hairstyle that obliges him to lean over at an angle of 45% whilst negotiating doorways). And Sue McCormick shines as the two-faced Mrs Candour, whose love of spreading malicious rumours is equalled only by her contempt for gossip
However, the funniest performances of the evening were those of Simon Holland Roberts as the rakish but basically decent Charles Surface and Mike Burns (Colin in The Brittas Empire) as the much-disguised Sir Oliver. Their famous "auction" scene, in which the debt-ridden Charles unwittingly flogs the family portraits to his own uncle, is an absolute gem.
Needless to say the cast double as musicians, and Conrad Nelson's score - which includes a witty opening song - is an integral part of the proceedings. There is no trademark Broadsides clog dance, but the production does feature an impressive display of musical gargling! This really is The School For Scandal as you've never seen it before. All credit to Northern Broadsides for blowing the cobwebs off Sheridan's masterpiece.
At the Theatre Royal until 26th November, then at the Grand Theatre, Blackpool. Tour ends 30th November
Reviewer: J. D. Atkinson