The School for Scandal
Richard Brinsley Sheridan
Greenwich Theatre
(2009)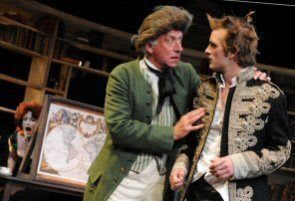 Elizabeth Freestone's production of Sheridan's classic is a long way from the lace wristbands and fussily flourished bows that used to be conventional for eighteenth-century revivals. Using the same permanent setting as the production of Doctor Faustus with which it plays in repertoire, plus a traverse curtain for front scenes and the addition of some piles of newspapers on top of its bookcases and some splayed pages down by the added footlights to remind us of contemporary scandal sheets, it moves along at a delightful canter, challenging its audience to keep up with its non-stop flow of wit.. It runs like clockwork - no, clockwork does not have its effervescence and one is totally unaware of the machinery of its carefully plotting. It is a delight!
Designer Neil Irish gives as an eighteenth-century society which could have been shopping on the Kings Road of the new romantics, its dressmakers and tailors pinching ideas from Vivienne Westwood. It's a world that feels convincingly period though substituting a range of fashionably changing extravagant greeting for flowery fopperies, but at the same time feels as close to now as OK magazine, Big Brother and credit cards in its prurience, affairs and reckless borrowing.
It would be hard to find a better comedy than this story of an old man with a young wife who is tempted by fashionable gallants, of a selfish opportunist brother and his caring but spendthrift sibling, of gossip and scandal mongers, kindly uncle, loyal servants.
From the moment that the aptly named Snake appears, played beautifully Brummy by Guy Burgess with gleeful guile, you know this is going to be fun - and what a wonderful character, one who ends up begging to keep his bad name, cause that's how he earns his living. With Amy Rockson's Mrs Sneerwell, Harvey Virdi's Mrs Candour and Gareth Kennerley's Sir Benjamin Backbite we are tipped headfirst into this School for Scandal.
Adam Redmore's good brother Charles Surface and Samuel Collings' bad brother Joseph play their roles to the hilt, Redmore with an extravagance that would be OTT were it not that it exudes his insincerity. Mark Extance is a totally real uncle Sir Olive and Conrad Westmaas all open honesty as servant Rowley and, at the centre, is the pairing of Jonathan Battersby's totally lovable Sir Peter Teazle and Beatrice Curnew as his young wife, not quite the young innocent you might expect. Curnew suggests that this farmer's daughter wasn't so naïve and would have jumped at the opportunity for any marriage that would get her to town. Once there she has rapidly lost both country manners and accent.
The great accomplishment of this company is that they make Sheridan's text their own, sounding fresh minted and fluently contemporary. There is the slightest of hiccups when one drunk scene doesn't quite convince and I wonder why the director found it necessary to invent her own form of the famous 'screen scene' devising a new way of hiding the woman behind it but that doesn't stop this from being a production to relish. Check out which nights it is playing and book now!
Until 17th October 2009 (in repertoire with "Doctor Faustus")
Reviewer: Howard Loxton