Science Museum Live

M4 Entertainment
Royal & Derngate Northampton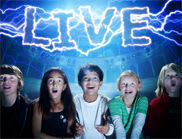 We are promised bangs and excitement: explosions and danger with the science museum live. The aim is to make science exciting and accessible to children; the result is not far off target.
The idea of taking a museum out to those outside the M25 who don't always have the pleasure to attend such a national treasure is a good one. Anyone who attends the museum in school holidays will appreciate not having to join a mile long cue!
Perhaps the execution is not as successful as the promise of the idea. The video footage from the museum, though having an educational through-line, acts as a kind of advert for the museum: "if you come here this is what you can explore" seems to be the message.
As good as the intention is with the videos, they take away the energy and focus that the presenters have worked so hard to create. I can see that they cover the changes in experiments, but I could also see the younger members of the audience zoning out.
It was the practical experiments that the audience (especially the children) loved. The presenters Mandy (Emma Blackwell) and Mark (Mike Goble) have a great energy about them; their explanations of the science behind the various trials aren't lost in dull lectures but move along with pace and energy and, most impressively, play out to the audience in such a way that makes the audience part of the show.
The audience interaction is a real strength and is executed with a professionalism; it is a real skill to be able to do this effectively, and both presenters demonstrate this throughout. Perhaps the only let down is that this isn't developed / included in more sections.
When it is included, the audience—especially the children—enthusiastically respond with relish and confidence in abundance. It was warming to see the children displaying such impressive knowledge; science, it seems, is very much alive in those youngsters present in The Derngate, Northampton.
Whether the show works as a piece of touring theatre is debatable. The performance does feel like it could be a daily show at the museum itself rather than being performed as a piece of "scientific theatre".
However, this most definitely goes against my original argument about outreach: the show does bring the museum to the people rather than the other way around.
So is this theatre of the nerd rather than theatre of the absurd? You will have to attend the performance to make your mind up. it tours nationally until Saturday 16 June. You will certainly be served with a collection of explosive experiments that make science come alive in the wide open eyes of lovers of all things scientific.
Reviewer: John Johnson