Scottish Falsetto Sock Puppet Theatre with Ali Cook

Newbury Corn Exchange Studio, New Greenham Arts
(2010)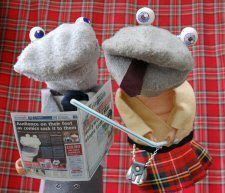 Opening the Newbury Comedy Festival, at the Corn Exchange's studio space at New Greenham Arts were two diverse bed-fellows. Ali Cook is a skilled magician who wowed the audience with his inventive illusions and magic. He starts his set with an impressive trick using a live chicken and a duck that change heads. Now that was spectacular!
The Comedy Festival gives artists the opportunity to try out material before they tour to the Edinburgh Festival Fringe and Ali Cook certainly had a some dark jokes and stories some that worked better than others. He has such an imposing pedigree: he is a Silver Star associate member of the Inner Magic Circle has had sell out shows in the past two years and seven British television series to his name.
He develops an excellent rapport with the audience using them as assistants in his clever illusions and sleight of hand.
His mind reading magic is truly imaginative when asking an audience member to guess a card from an imaginary pack and then, in a flash of fire, the pack appears in his hand and the card is revealed - and that's clever. There was a chaotic trick involving a goldfish, loads of powder paint, mustard and Angel Delight and water - very messy. Another mind blowing feat was where Ali correctly guessed the time an audience member had written down, even the theatre clock had stopped at the time. Again, most spectacular.
Less successful was the old trick of swallowing razor blades but this time with the addition of blood effects that were rather too well signalled and very gory.
He has the inimitable ability of combining magic and comedy that makes you both laugh out loud and marvel at his magical skill.
The second act was the outrageously funny Scottish Falsetto Sock Puppet Theatre Goes to Hollywood. Set in a tartan covered puppet booth these two grey sock puppets with ping pong balls for eyes simply enthralled the audience with their mischievous banter.
They are the Morecambe and Wise of the sock puppet world as they lampoon the world of Hollywood with great pace and humour. Kev F Sutherland, who wrote this clever, witty show, skilfully brings the two characters to life as they compete with each other for supremacy.
We experience a plethora of genres from Film Noir and Horror Film clichés to Romantic Comedy, all told with a passion as the puppets spar with each other with puns and increasingly groan-producing jokes. The audience are asked to contribute subjects to assist their repertoire. All good fun, especially when things go wrong. There are even costume and prop changes that take place at breathtaking speed.
This is a show that delights, amuses and is plain daft fun but above all wonderful knockabout entertainment. Highly recommended.
Ali Cook's Pieces of Strange and Scottish Falsetto's latest show On The Telly will be touring to the Edinburgh Fringe at the Gilded Balloon Teviot from the 4th to 26th August. Not to be missed.
Reviewer: Robin Strapp