Scouse of the Antarctic
Fred Lawless
Royal Court Liverpool
Royal Court Liverpool
–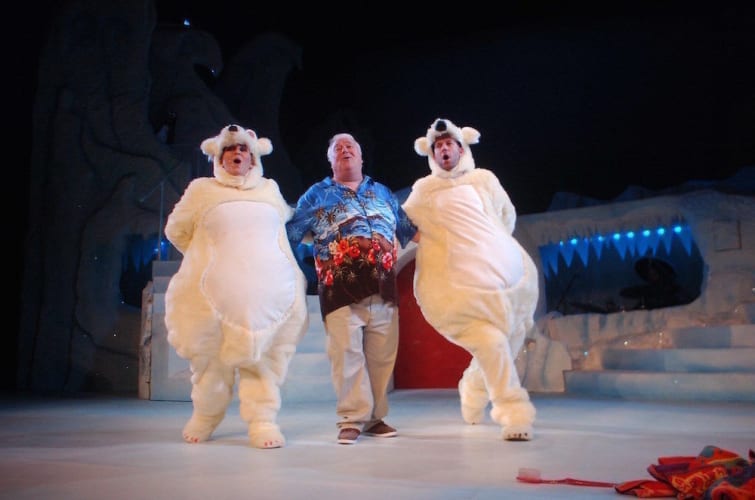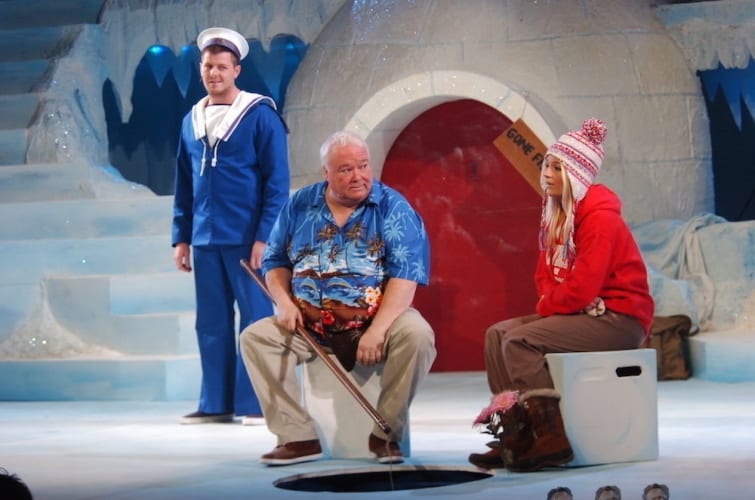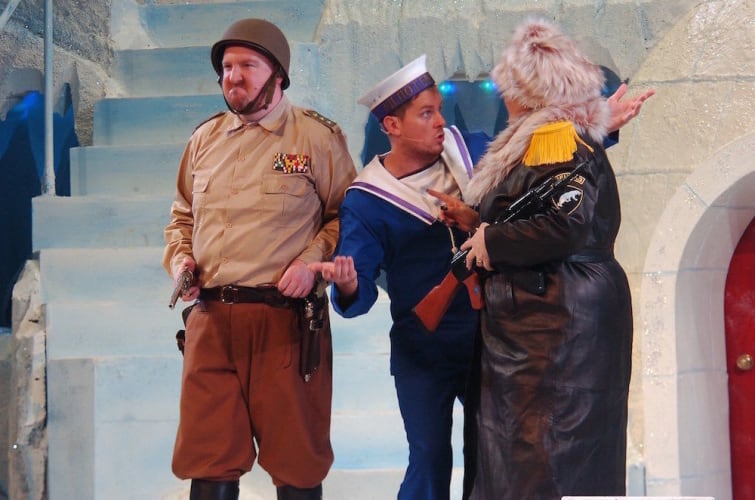 Four Mexicans a-rocking, three submariners a-squabbling, two polar bears a-talking and one snowman a-swearing are just a few amongst a very eclectic cast of characters who rock up at the Antarctic to throw a very slippery sardine in the works of Michael Starkie's polar ice-cap paradise in The Royal Court's Christmas show Scouse of the Antarctic.
If that sounds a little random, then don't worry it's supposed to be. For this is the type of show where anything can and does happen. Okay so it's not the most subtle show on earth (Scouse of the Antarctic, geddit?) but it's one that knows exactly what its audience wants, and boy oh boy does it give it to them. Then it's mayhem all the way as Starkie's peace is rudely interrupted not least by a foul-mouthed snowman who could make even Gordon Ramsey blush.
What this show lacks in finesse it more than makes up for with its sheer exuberance. The band in particularly is excellent, taking the audience through a bewildering range of styles from good old rock 'n' roll, to Russian folk music and even taking in Ravel's "Bolero"! These guys are nothing if not versatile. And how very heartening to see a female lead guitarist for a change.
The highlight of this show is undoubtedly Richard Foxton's super winter wonderland set, expertly carved out of polystyrene and enough to set the teeth chattering by just the merest look.
Performances are, as might be expected, big, bold and brash but whoever 'cast' Lindzi Germaine as a Russian submarine captain wants their bumps feeling. Ms Germaine's considerable talents could surely have been used to much better effect.
Haley Hampson meanwhile is a twee leftie student with a great voice and even greater wiggle. Michael Ledwich and Helen Carter are a couple of salt-of-the-earth polar bears who extract every last drop of laughter from their fluffy onesies.
Oddly, Michael Starke—Scouse of the Antarctic—somewhat melts away in the second act as the show focuses on the cold war antics between the ruskies and the good old' US of A, both of whom wish to claim the Antarctic as their own. At times it all gets a little frenetic as the yanks and ruskies constantly face off until the final big thaw.
For the most part the jokes are well received with snow and ice puns a-plenty. The comic highlight though is undoubtedly Michael Starke's Cilla-cum-Doddy turn followed hard on the heels by an hilarious Lennon and Macca impression.
Overall, Scouse of the Antarctic is a fun piece of winter escapism. Okay so the writing and direction might not be the sharpest, but the performers and especially the musicians do a splendid job in carrying the whole thing along. It's part-panto, part-footlights, thus you go along knowing exactly what to expect.
Judging by the rapturous applause Scouse of the Antarctic certainly managed to warm the cockles of this audience alright.
Reviewer: David Sedgwick