Scrooge
Book, music and lyrics by Leslie Bricusse, based on Charles Dickens's A Christmas Carol
Bill Kenwright
New Theatre Oxford
–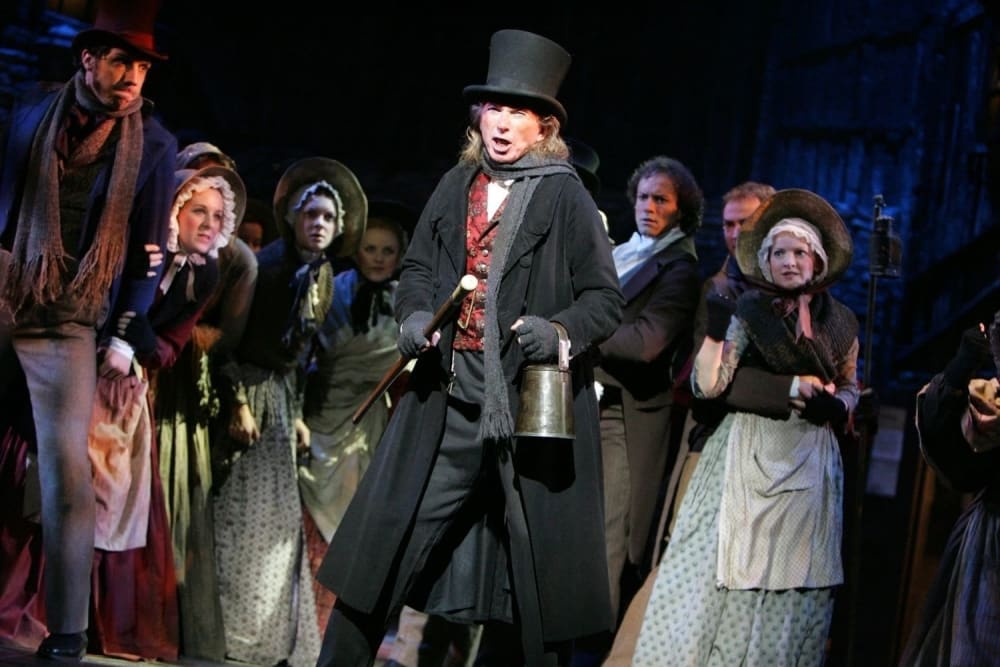 2012 is the 200th anniversary of the birth of Charles Dickens and he was undoubtedly a master storyteller. His highly successful A Christmas Carol has been joyously adapted in Bill Kenwright's production of Scroogewith a vibrant book and music by Oscar winner Leslie Bricusse.
This classic tale of the miserly Scrooge is given an exuberant and captivating performance by the 75-year-old Tommy Steele, who obviously relishes his role as the mean moneylender Ebenezer.
The production standards are of the highest standard. Paul Farnsworth's atmospheric set perfectly captures the Cheapside of London in 1860 with timber beams, broken windows and the cluttered, book-strewn office of Scrooge and his dismal bedroom, complete with four poster bed.
Edward Handoll is the ever-optimistic yet hard done by Bob Cratchit who has the misfortune to be Scrooge's clerk. His large family has to eek out a living from his meagre wages, but they maintain optimism as Christmas Day approaches and Tiny Tim (Daniel McEwan) pulls at your heartstrings.
With the ghostly entrance of his dead partner Marley draped in chains as atonement for his sins and strongly played by Barry Howard, Scrooge's life is going to change forever.
He is promised a visit from three spectres. The Ghost of Christmas Past (Sarah Earnshaw) transports Scrooge back to his childhood days at school, his apprenticeship with Mr Fezziwig—the ebullient Halcro Johnston and the vivacious Tessa Vale as his wife—and the young Ebenezer's tentative romance with Isabel (Leonie Heath).
Appearing from within the four poster bed is the blissful James Head as the Ghost of Christmas Present with holly wreath on his head and an illuminated coat who forces Scrooge to examine his current situation.
Finally, Nick Blair is the huge, grey apparition of the Ghost of Christmas Yet To Come who conveys Scrooge to his tombstone and reveals the fate of Tiny Tim.
Scrooge becomes a changed person and finally celebrates the delights of Christmas and accepts the offer of spending Christmas Day with his nephew and family.
Paul Kieve's illusions as each of the ghosts appeared are stunning and keep you guessing as to how they are achieved.
There is excellent support from the enthusiastic large ensemble with slick choreography by Lisa Kent, and the youngsters from the Stagecoach Theatre School Oxford are a delight.
Bob Tomson's skilful direction produces an evening that is filled with the magic of the Christmas spirit.
But undoubtedly the star of this engaging show is Tommy Steele who received a spontaneous standing ovation from the large, appreciative audience that was richly deserved.
In the words of the most memorable song from the show, "thank you very much!"
Reviewer: Robin Strapp