Scrooge – The Musical
Book, music and lyrics by Leslie Bricusse. Based on 'A Christmas Carol' by Charles Dickens
Bill Kenwright
London Palladium
–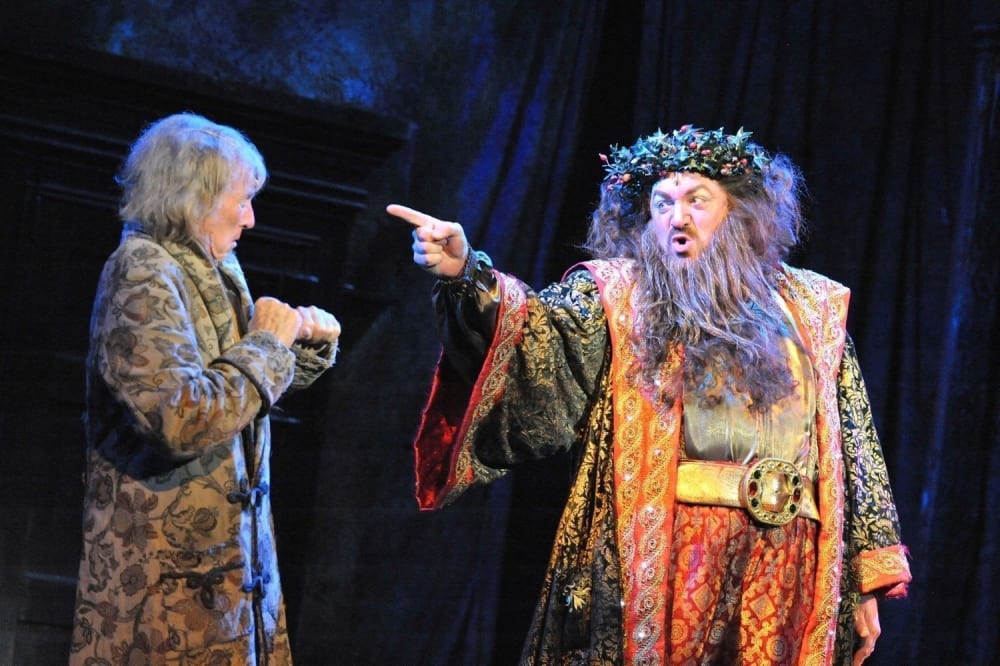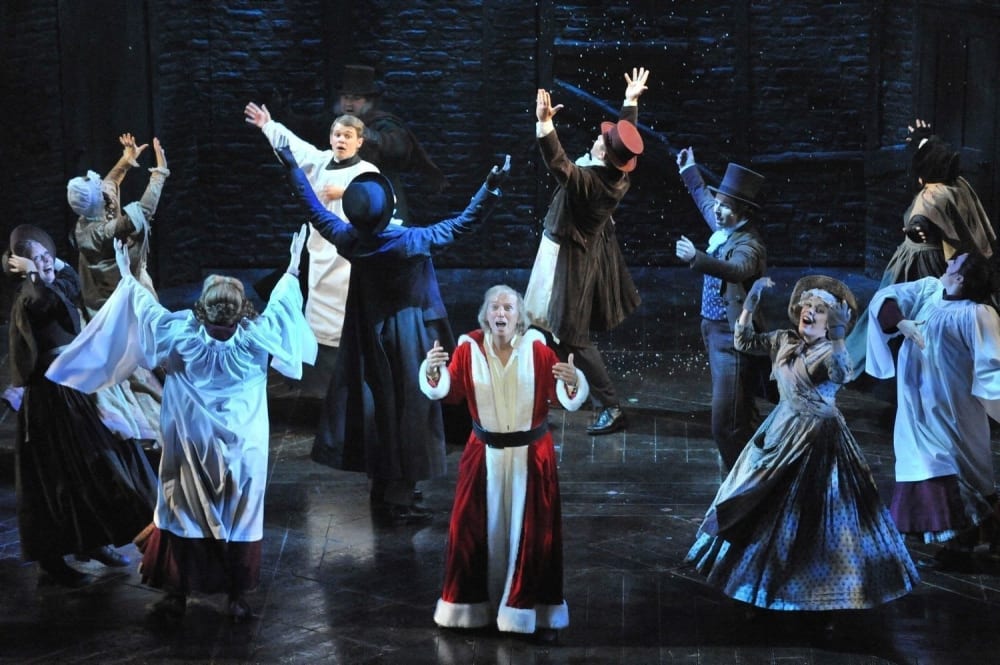 The lights are on in Oxford Street; shop window dressings are seasonal and with Tommy Steele at the Palladium in Leslie Bricusse's musical adaptation of A Christmas Carol Christmas has now definitely come to the West End.
Bob Tomson's production often looks like a Christmas card, there is a fall of snow and a banner Christmas greeting as well. The show even has an opening medley of favourite Christmas carols.
Paul Farnsworth's sets call up a nineteenth century London with ashlar-edged walls looming out of the darkness, Queen Anne doorways, a Wren-style church and a multi-paned toyshop window to suggest a street or market square lively with people or deserted in the pitch of night. His costumes make characters look like familiar Dickens illustrations, though not necessarily Leech's originals, but this adaptation turns the Ghost of Christmas Past into a woman. Sarah Earnshaw makes her feel like a Fairy Godmother.
In fact the spirit of pantomime is never very far away in this production, but old style pantomime before the introduction of Dames and speciality variety acts. There is one crowd scene that looks like turning into a harlequinade, the equivalent of a transformation scene is done with stylish simplicity and the appearances of the ghostly spirits are staged effectively. Indeed, the first sight of the Ghost of Christmas Present got a round on press night.
Bricusse's adaptation stays pretty faithful to the original. It has been trimmed of subsidiary episodes and tells the story clearly and if making the reformed Scrooge dress up as a red-robed Santa Claus delivering presents may be anachronistic and not in the book, it matches the spirit of Dickens.
There are lively dances from choreographer Lisa Kent for Mr Fezziwig's ball and lively footwork introduced elsewhere without swamping the story with big production numbers. Halco Johnston's sprightly, frog-like Fezziwig is typical of the sharp characterizations which bring all the roles to life.
There is a ghostly grey Jacob Marley from Barry Howard, a powerful Christmas Present from James Head and a very likeable Bob Crachit from Edward Handal along with the teeniest Tiny Tim from Colby Mulgrew, who shares the role with two other young lads through the run.
And then there's Tommy Steele, OBE. He first played this role in 2003 and he has made it his own. Was he the first pop star to declare he wanted to be "an all round entertainer"? He certainly achieved it. He is seventy-six next month but he has to act old for Scrooge and this Scrooge is still amazingly nimble.
As soon as you see him being taken back to the happy days of his youth with Christmas Past and tasting the Milk of Human Kindness from Christmas Present there is never any doubt that this is an Ebenezer who is ripe for reform, there's so much of the cheerful cheeky chappy bursting to get through, but he maintains enough of the miserly grump to still leave those who don't know the story in the dark.
Steele is a master at managing sentiment: a good match for Dickens and I can reliably report there were at least three people alongside me who were crying as the show drew to a close.
I've seen a plethora of Christmas Carols in the last couple of Christmases. I wondered if I could take another one, but this production delivers and all the family can enjoy it.
Reviewer: Howard Loxton