Scrooge
Book, music and lyrics by Leslie Bricusse, based on A Christmas Carol by Charles Dickens
Bill Kenwright Ltd
The Lowry, Salford
(2011)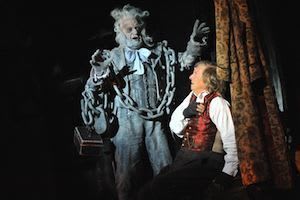 Tommy Steele last spent Christmas in Manchester as Scrooge back in 2004—although he did a briefer run in November a couple of years ago—but now he is back to celebrate both Christmas and his 75th birthday at The Lowry.
Bricusse's adaptation is pretty faithful to the original and works fairly well, although he has made a few changes that range from the cheesy—the Ghost of Christmas Past has been changed from a child into the ghost of Scrooge's sister—to the bizarrely unnecessary—Scrooge's nephew Fred has been re-christened Harry. The ending is rather drawn out which pushes it into sentimentality, some scenes are a little over-explained and some changes just haven't been thought through, such as having the charity collectors come up to him as a stranger in the street to ask him if he is Mr Scrooge or Mr Marley instead of calling into his office with the partners' names on the door.
However, these niggles aside, the best lines, jokes and the story itself come straight from Dickens, and this has got to be the greatest Christmas story ever written. The songs aren't particularly memorable apart from the most famous "Thank You Very Much" and perhaps the act one finale "I Like Life", but they are pleasant enough and work within the context of the story.
Bob Tomson's production feels like a proper "big show" right from the opening chords of the overture, with sumptuous design of the run-down streets and houses from Paul Farnsworth, beautifully lit by Nick Richings (who has also lit the Library's Wind in the Willows over in the Lowry's Quays Theatre), and although this is now an old production, Paul Kieve's illusions still stand up and produce gasps from the audience.
There are some great characters created by the likes of James Head as the booming and quite sinister Ghost of Christmas Present, Halcro Johnston and Tessa Vale as the jolly Mr and Mrs Fezziwig, Edward Handoll as Bob Cratchit, Rhidian Marc as Harry and Barry Howard who returns to the role of Jacob Marley. There is a real ensemble feel to the performance outside the title role and the phantoms.
But of course this story revolves totally around one character, played now for the sixth time by well-loved entertainer Tommy Steele. It has to be said that to be performing nine shows a week on tour in a role where he hardly leaves the stage for two and a half hours and carries most of the main songs at the age of 75 (he turns 75 on 17 December) is an achievement in itself, but he is more than just "good for his age". He may not be quite as agile as he once was, but he sings, he dances, he can do comedy and he can bring the audience to tears as well. It's a real tour-de-force of a performance from a great all-round entertainer.
At the end of the press night performance, the whole audience was standing and applauding, and when Steele returned for another bow and told them to "go home", he had a big smile on his face and showed no sign of wanting to leave the stage while they were still clapping.
If I was to spend money on a ticket for just one of the big shows in Manchester I have seen this year, it would definitely be Scrooge. Great all-round entertainment for all the family, and Tommy Steele—what more could anyone want from a Christmas show?
Plays until 7 January 2012
Reviewer: David Chadderton