Scuffer
Mark Catley
West Yorkshire Playhouse, Leeds
(2006)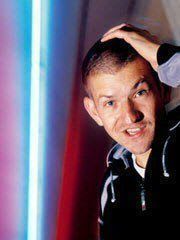 Scuffer is an excellent picaresque romp. Innocent, lovable Danny is on a ten hour quest to raise £625 or lose his kneecaps to a baseball bat. As a paid up member of the underclass, this isn't Danny's lucky day. Except we know that it's in the nature of the genre that it is just that - his lucky day. And true to form it is. In fact, it's every body's lucky day, apart from the hiss and boo villain, Cauldron, and even he, we feel, is likely to turn up in another play as a reformed character wagging his way through a fast-track urban renewal dramatic arts summer school. No gritty realism here then, but plenty of the hard faced, camp flash that is quintessentially Leeds.
The simple (and good) plot twists and turns through the city centre. Danny is aided by his on/off girl friend and her kindly dad, hindered by nasty Cauldron and Kathy, a vicious debt collector who's looking for love. The whole is peopled by a group of nicely doubled minor characters..
This is Mark Catley's third Courtyard play and the second to be directed by the WYP Literary Manager, Alex Chisholm. Together they create a sort of McGill/Coward twenty-first century light comedy - there's even a sofa (doubling as bed, park bench, bus seat etc). It's a fine convention that had a full house rocking.
The intelligent script has some great one liners. Direction is right up to the mark, with a couple of glaring exceptions (why, oh why, as they cry, stop the action for a naff rendition of a naff song by the whole cast, most of whom drop their Leeds accents in favour of 'singing voices' - yuk! Cut!).
Given the good work by Catley and Chisholm, an excellent cast fly. Richard Glaves' Danny delicately combines tremulous anxiety with ever deflated cocky self-regard. Hannah Story, as girl friend Amy, is all waspy, bright-wise vixen caught in the sticky web of teenage love. And Dominic Gately does urban evil so you'd cross the road to avoid him. William Ilkley gives astounding depth of character to Jack, Amy's warm, loving dad; it's a memorable understated performance. And, in counterpoint, Lorraine Bruce entrances with her club-swinging debt collector (perversely driven by a deep biological need for the love of a child). More than this, she doubles as an unforgettable till lady and a Southern installation artist getting off on Northern rough. It's good to see the beloved Northern truism that the women rule the roost embodied in Bruce and Storey's fine performances. And celebrated in a brilliant Catley one liner: Dad, to Amy, after being brow-beaten by Cathy - 'Your mother would have had her!' (or words and situation to that effect).
Towering above and around it all, a whirling, glittering star in its own right, is Mic Pool's fantastic video design. From the moment designer Emma Williams' stark back drop (as if for an early 20th Century Eastern European production of Hamlet) morphs into vertiginous high rise flats, Pool's technomagic suffuses the action with Leeds: a garish blousy old tart with a loot-tarnished heart .
So, five star local theatre, and, with a little tweaking, good national theare.
Sadly Mark Catley has taken the BBC shilling and is now writing soap. Few survive it and even fewer emerge unscarred. Perhaps Catley will, lets hope so: on this showing he has a future in theatre.
Reviewer: Ray Brown