Scuttlers
Rona Munro
Royal Exchange Theatre
Royal Exchange Theatre, Manchester
–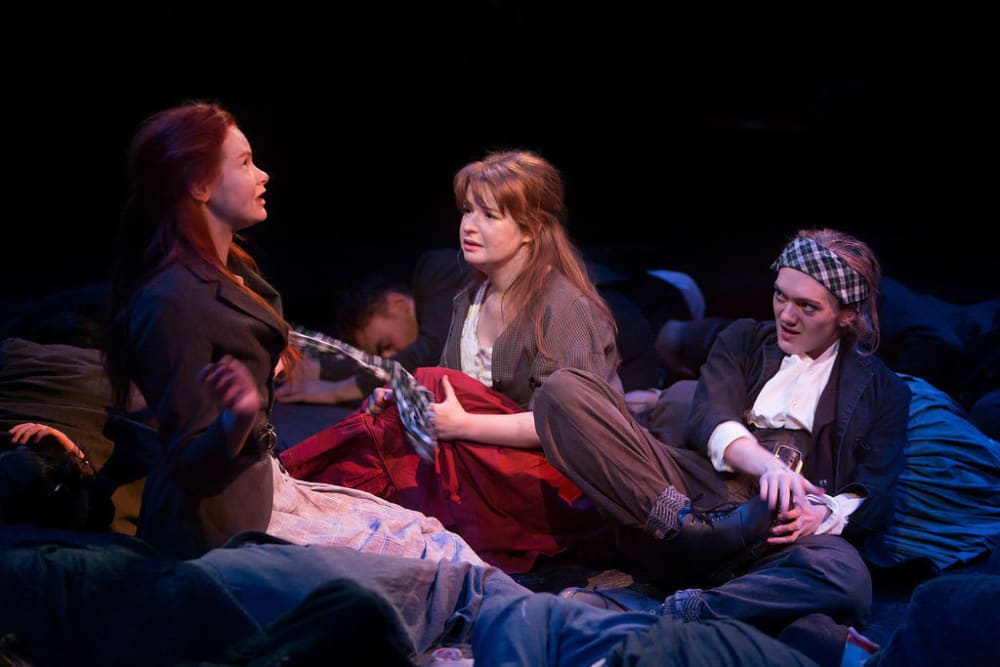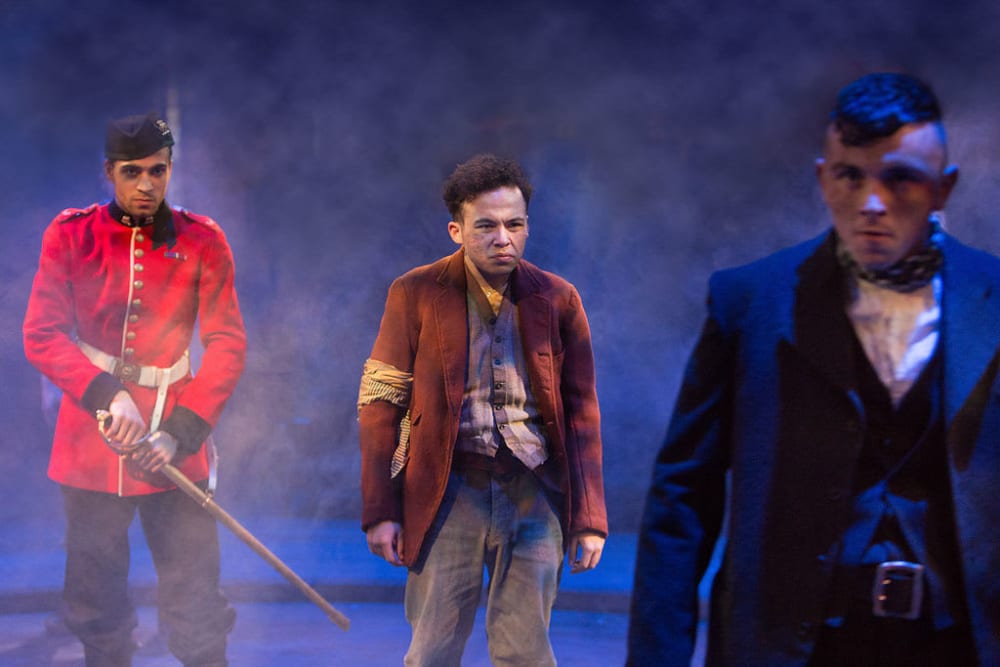 After last year's very successful site specific show Angel Meadow, the Royal Exchange Theatre also examines nineteenth century street gangs in Ancoats, Manchester in this new play by Rona Munro, which even shares a cast member with that earlier production.
Scuttlers were the street gangs of late nineteenth century Manchester—"scuttle" was the local slang word for a street fight. Munro's play shows the conflict between the gangs of neighbouring Bengal Street and Prussia Street.
There are several strands of story running through the play, perhaps too many, as head of the Bengal Tigers Sean is being challenged for leadership by Jimmy, Sean's girl Theresa discovers that her brother Joe, who abandoned her to join the army, has returned and is on the side of Prussia Street, while Joe discovers that his girl Susan, a nurse, has given birth to his son while he was away.
Thomas is a newcomer to these streets from Chorlton, a little immature but with a head full of stories of his father, whom he never met, once being the head of the Bengal Tigers and with ideas of following in his footsteps.
While the gangs gather regularly to trade insults across the bridge dividing their territories, at some point the simmering volcano is bound to erupt into violence, both within and between the gangs.
Wils Wilson's production has a large professional cast and a now-fashionable "community ensemble", which is sometimes very effective for building up the noise and the tension as tempers flare and fists fly, but at other times they get in the way and obscure visibility of the main parts of the scene.
Wilson is aided by Frantic Assembly's Eddie Kay with the movement of this large group of performers. There are some very impressive movement scenes, such as the fight and a nicely staged scene in a pub with freezes to focus on particular characters, but a lot of the movement pieces come across as padding between scenes that serves little narrative purpose.
The actor becoming experienced at being a member of an Ancoats gang is Caitriona Ennis, here giving another very strong performance as nervous new Tiger Margaret. With her, Rona Morison is also very good as the fiercely independent but conflicted Theresa and Chloe Harris creates a very believable character of young tomboy Polly.
Tachia Newall attempts to be the calming force as Joe, returning from genuine military conflict, while helping his friend George, a lovely performance from Kieran Urquhart, to play the role of the Prussia Street leader, with very good support from Anna Krippa as Susan. The conflict between Bryan Parry's Sean and Dan Parr's Jimmy, both with words and with violence, is perfectly measured and believable.
David Judge plays the difficult role of Thomas, who seems to transform into something different in each scene but becomes key to the whole story by the end, but somehow he brings these contradictions together into a likeable and genuine character.
There is some wonderful music by Denis Jones which, though anachronistic to the time in which the play is set with its electronic dance beats and synth tones, greatly enhances the atmospher.
There is some very strong writing and acting producing some powerful and, at times, funny scenes, but as a whole it is something that is enjoyable but not really a must-see piece of theatre. There's too much padding in the scene changes, and I didn't really understand the significance of the rain or the switch to modern dress at the end, as impressive as they are.
But it's certainly an interesting piece with local relevance and a good partner for last year's Angel Meadow, if you were lucky enough to see it.
Reviewer: David Chadderton