Sea Creatures
Cordelia Lynn
Hampstead Downtairs / Celia Atkin
Hampstead Theatre Downstairs
–

Listing details and ticket info...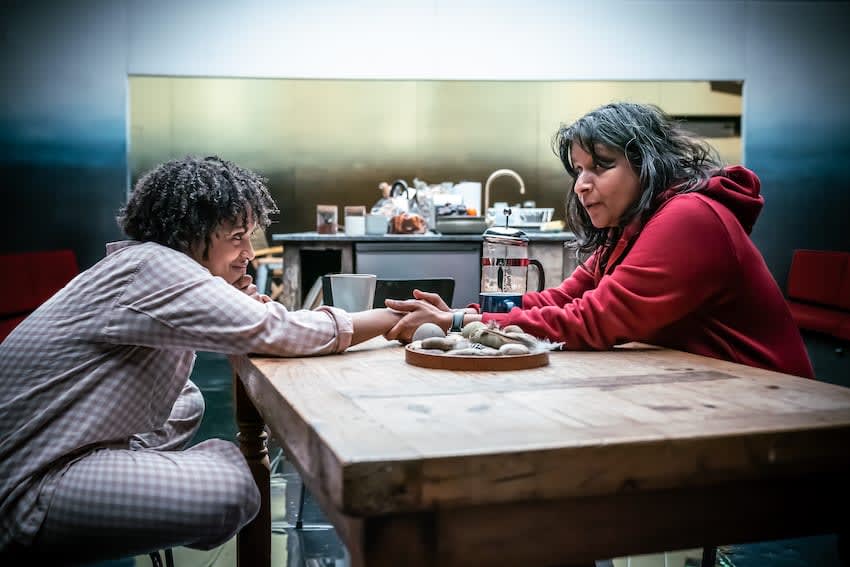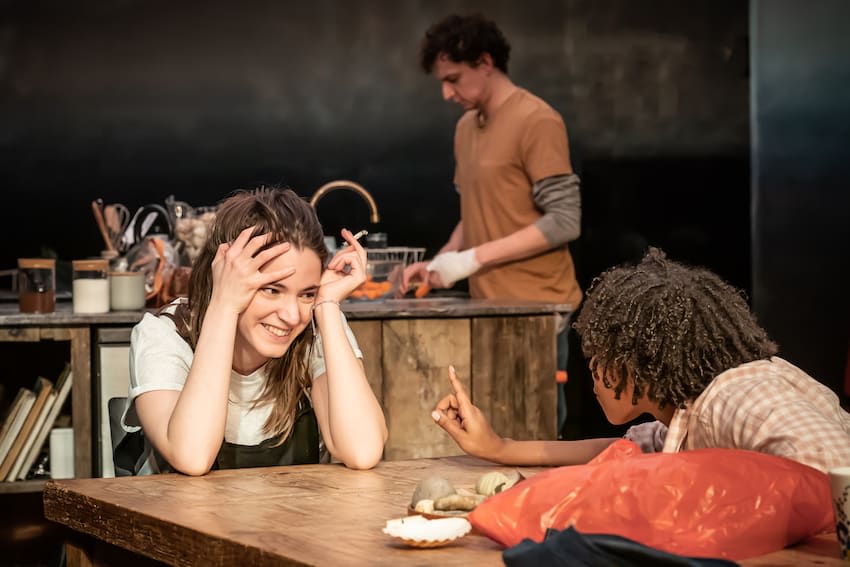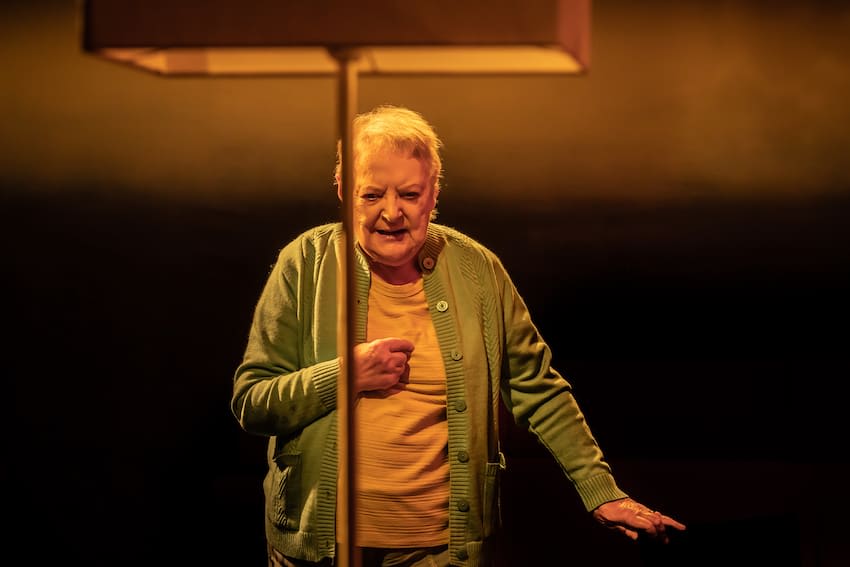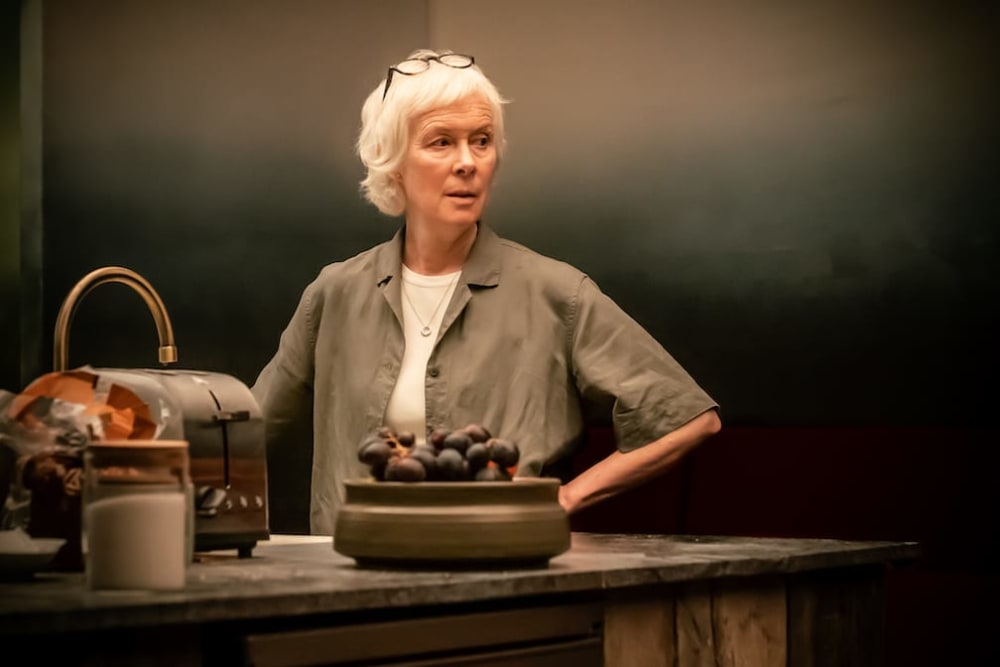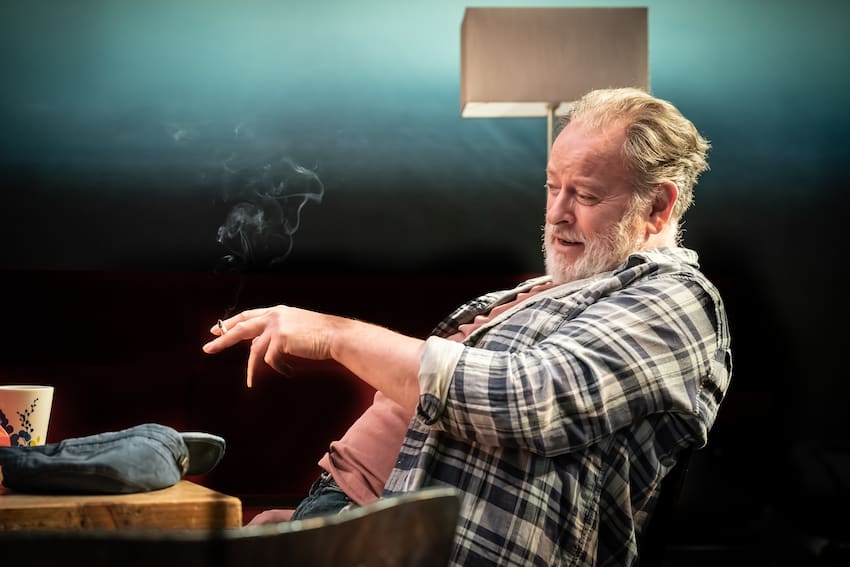 Philosophy academic Shirley, her lover Sarah and her daughters—George, who is pregnant with an unwanted baby, and youngest Toni, who has learning difficulties—are spending the summer in their holiday home by the sea. But there is somebody missing: a third daughter, Robin. Toni thinks Robin is gong to turn up with her boyfriend Mark, but that is wishful thinking, he arrives alone, hoping to find Robin already there. Her absence hangs over the whole play.
The surging waves of Max Pappenheim's soundscape and Jack Knowles's elemental lighting make the sea an additional character with a climactic thunderstorm and who knows what might emerge from the waters. There is a hint that a fisherman grandfather's ghost is still around. Lobsters scuttle across the kitchen floor escaping boiling and the play seems to borrow the idea of the shapeshifting Selkies, seals who can shed their skin and come out of the water to appear human.
Mark has been writing his PhD dissertation and wants Shirley to read it. When he turns up bereft in this all-female household, he counters any intimidation by instructing Toni in kitchen skills. She may seem childish for at 22, but she can handle him. Tom Mothersdale and Grace Said play off each other delightfully, but can one believe all Toni tells him? Does Sarah really only paint lobsters? Should we believe George's story of how Robin made Shirley deaf in one ear?
Sea Creatures is a mixture of actual and magical realism. Though it is clearly about loss and the emptiness left by absence, it avoids the explicit. It is sometimes amusing and can be momentarily moving without producing real involvement, but director James Macdonald melds its elements masterfully and the cast give flesh to lightly drawn characters.
Geraldine Alexander's Shirley, perhaps on the edge of early Alzheimer's, disappears to write every day but is actually sleeping, Pearl Chanda as George still smokes and drinks despite the baby she treats as a burden—perhaps she just doesn't like men: she refers to the sisters' fathers as "the sperm banks"—and Thusitha Jayasundera as Sarah provides a calm core for this female family. Tony Turner makes a relaxed contrast to the household's tension as a friendly fisherman who drops by and tells stories, including one of a young woman who met a stranger on the beach with a beautiful voice and casts her heart in the waves, and June Watson is very touching as an elderly woman who could be a Selkie for she says she has lost her skin.
These poetic elements, along with a mysterious trail of sand, a dead swallow, the thunderstorm drenching and the surging sea seem full of symbolism but, like the occasions when a moment of action is repeated with a change to the dialogue, are not easily interpreted. Sea Creatures offers nearly two hours (no interval) of being intrigued, but may leave you baffled.
Reviewer: Howard Loxton