The Seafarer
Conor McPherson
National Theatre production
The Lowry, Salford Quays
(2007)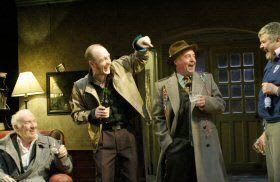 Conor McPherson, who was brought from Ireland over ten years ago by the Bush with This Lime Tree Bower after being rumoured as 'the next big thing' and then went on to worldwide acclaim with The Weir, now directs his latest play The Seafarer for England's National Theatre.
The play is set in a rather run-down house in Baldoyle, a coastal town north of Dublin, which is owned by Richard, now blind after a drunken fall into a skip and looked after by his rather pathetic brother Sharkey who can never hold down a job. It starts on Christmas Eve, and after some ill-looking bodies emerge from different rooms or from behind furniture from last night's drinking, it doesn't take long for the drink to start flowing again - a flow that continues to accelerate as the play proceeds. On a trip out for more drink, Richard invites more people back to the house for drinks and cards, and as the day wears on we get stories told, past conflicts emerging and a mysterious visitor who raises the stakes of the card game immeasurably for Sharkey, unknown to the others.
As with most of McPherson's plays, the action unfolds very gradually through a lot of drunken banter, but even the parts where little or nothing is happening are fascinating to watch and listen to. His ear is so well tuned to the rhythms of natural speech that he can use not only half sentences but sometimes half words or even sounds and grunts that aren't even words and make them sound perfectly natural and comprehensible and also beautifully poetic at the same time, and sometimes is rewarded by a laugh of recognition from the audience for the way we all speak.
McPherson's earliest plays - such as This Lime Tree Bower - consisted of actors on stage telling stories directly to the audience. For The Weir, he put his characters in the setting of a pub and got them to tell the stories to one another. While not as obvious, The Seafarer still has a strong element of storytelling both between characters and to the audience, which draws the audience into the world of wonderfully-drawn characters who are all frustrating and loveable at the same time. Apart from the original meeting of Sharkey and the mysterious Mr Lockhart being just a bit under-explained for me to work properly, the plot is very cleverly constructed so that when you think little is happening, you are getting lots of information and laughing a lot as well.
The National has assembled a top-notch cast who all work superbly together. Jim Norton, who played a similar key role in The Weir brilliantly for the Royal Court, creates a tour-de-force of a performance as blind Frank, who is always ready for a drink and a laugh but very demanding of his brother Sharkey. Karl Johnson plays the put-upon Sharkey very well, and Conleth Hill creates a superb drunken character of Ivan that is hilarious but also very real. The quintet is completed by Ron Cook, looking like a dodgy local businessman or perhaps a football manager, as Mr Lockhart and Michael McElhatton as Nicky, who is now with Sharkey's ex-wife.
Rae Smith's set is as detailed with its little naturalistic touches as McPherson's dialogue, with its battered furniture, stained rug, lino that has torn round the edges to reveal layers of older lino with different patterns, the green stain up the concrete wall outside the door and even the barely-seen toilet and kitchen through doors off the main room. The gauze across the top of the stairs seems a little out of place, but it is used to conceal a very nice moon and stars effect that appears briefly. The set is lit beautifully and with a similar degree of naturalism by Neil Austin.
The cast got a well-deserved cheer from the audience in an almost-full auditorium on the opening night. This is a great piece of theatre, superbly executed on every level - writing, acting and production - and exactly the sort of production that the National should be touring with its original cast to get a wider audience across the country.
Reviewer: David Chadderton