Seagulls
Beth Hyland
Octagon Theatre Bolton & Middle Child
Bolton Library and Museum
–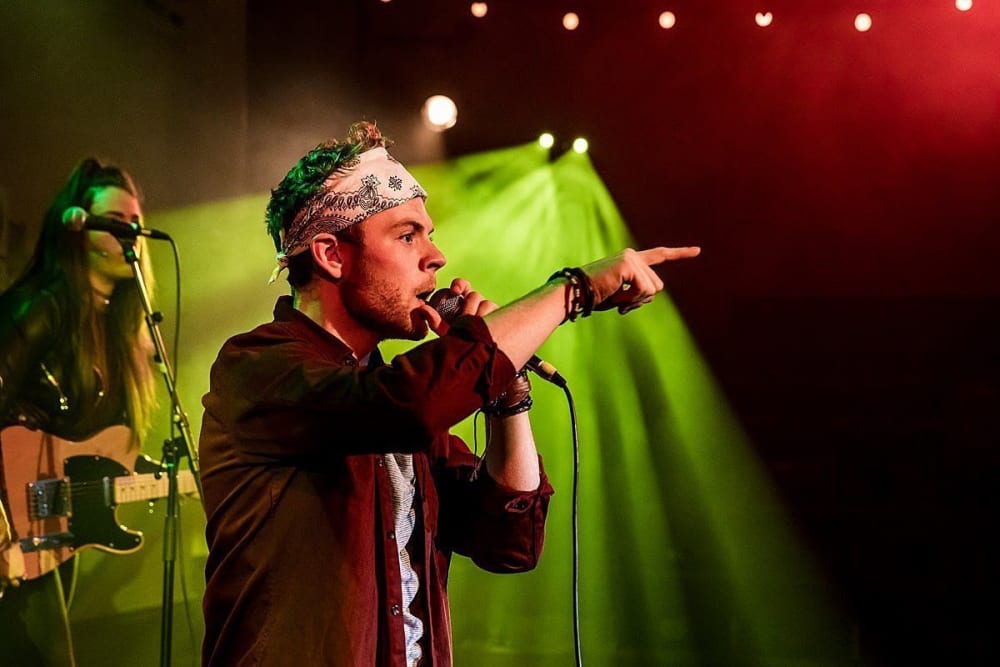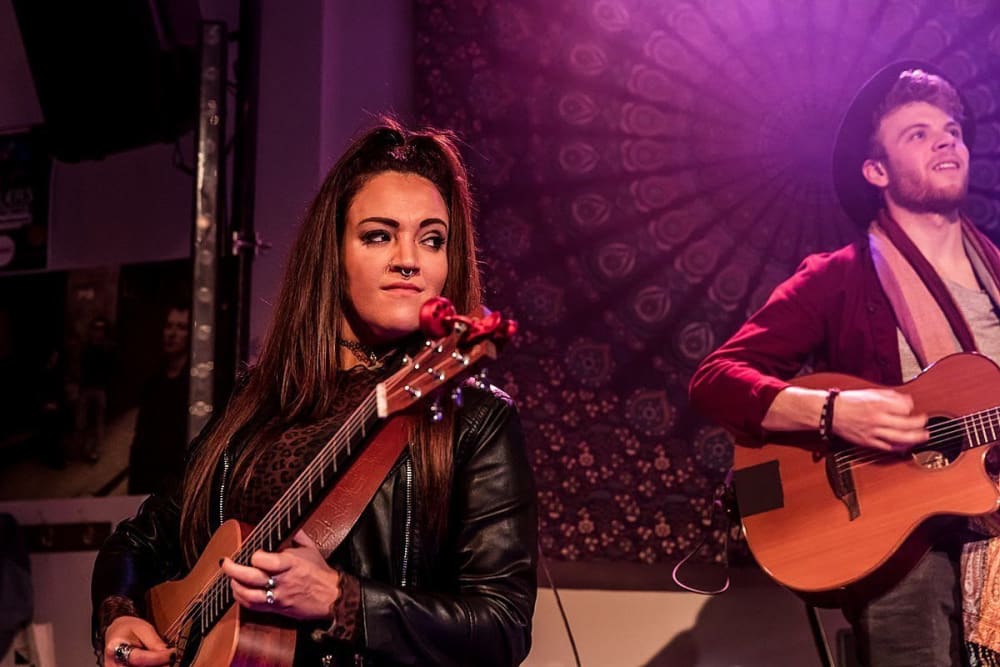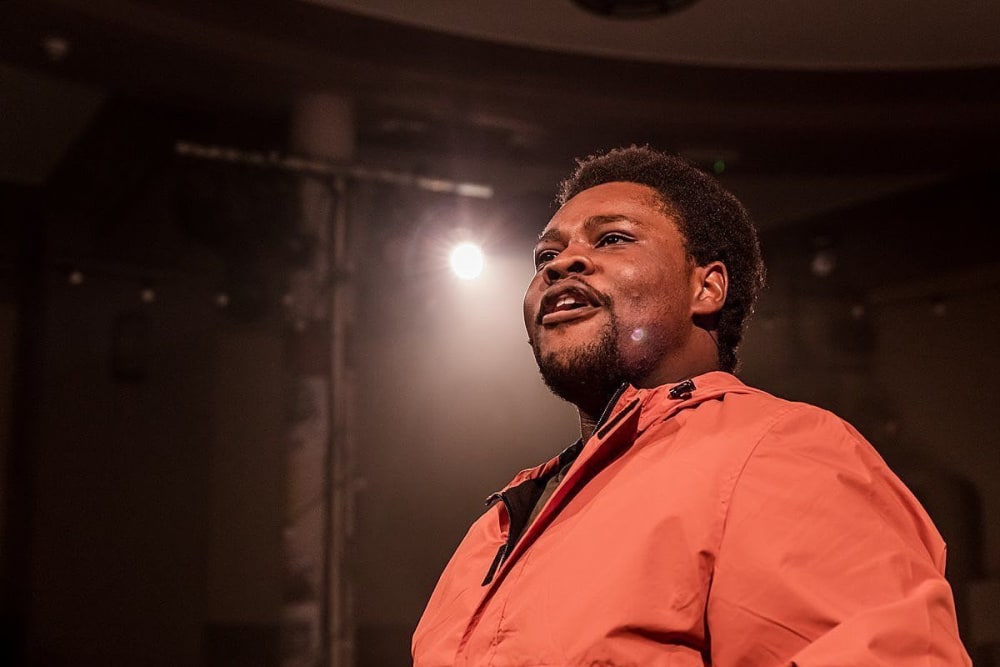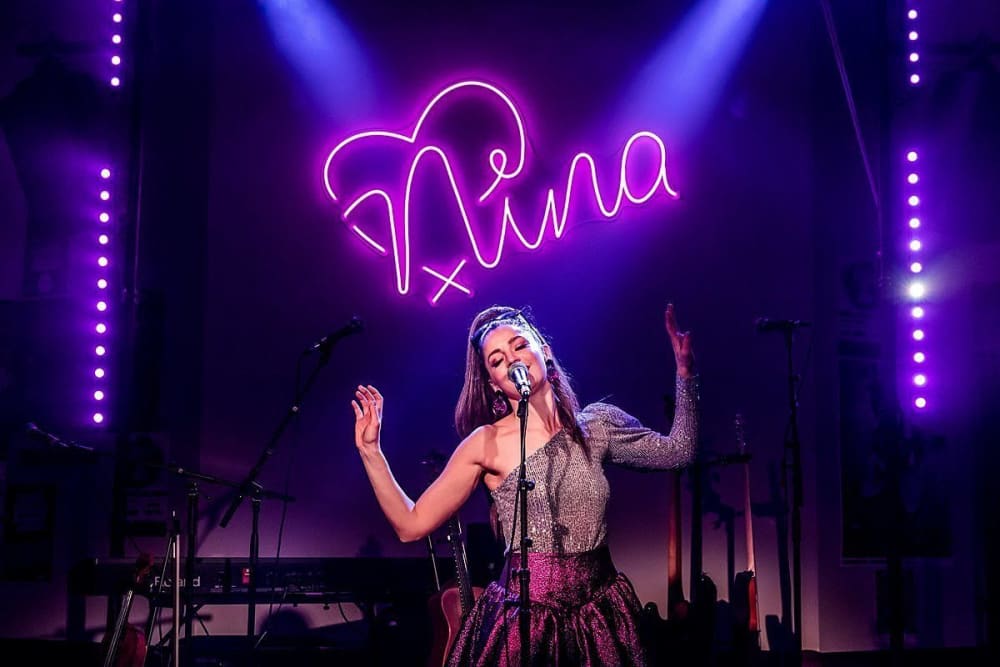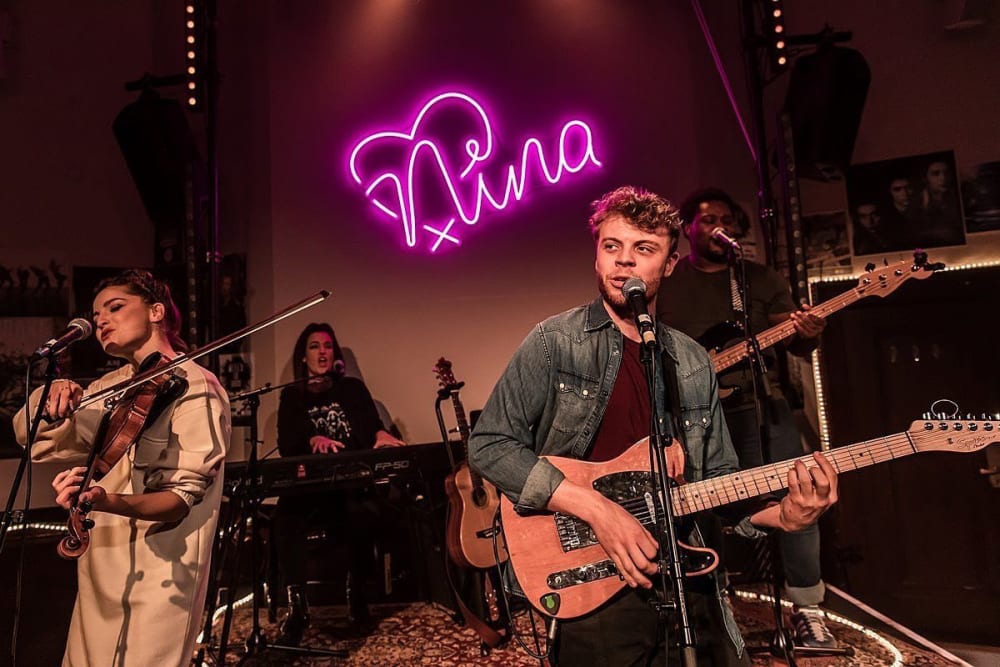 Artistic Director Lotte Wakeham's directing debut at the Octagon is a gig theatre collaboration with Middle Child on a modern-day adaptation of Chekhov's first major work to be produced for the theatre. It might sound an odd concept, but writer Beth Hyland, with some translation from the US to Bolton by Wakeham, kind of makes it work.
You can watch this production with no knowledge of Chekhov and it would work perfectly well as a standalone piece, but there are some references that will work as in-jokes if you get them, and the characters and structure are clearly taken from the original play. It focuses entirely on the four twenty-year-old students in a pop band called Seagulls: lead singer and guitarist Con (equivalent to Constantine in the Chekhov play), keyboard player Masha (in Mötley Crüe and Black Sabbath tee-shirts—a nice touch), bassist Simon and violinist and singer Nina. The romantic ties are the same: Con worships Nina, while Masha is with Simon but loves Con, but Simon still thinks the world of Masha.
They win a battle of the bands competition, which leads to a support spot for a well-known band, but Con is as angst-ridden (and pretentious) as his Chekhovian ancestor and for the same reason: his mother. While the woman who became a major pop star in the '90s as Dina D and her famous songwriter boyfriend Ben (Chekhov's actress Irina Arkadin and writer Boris Trigorin) only appear at the other end of a phone line, their imminent presence at the gig has a strong effect on Con, who wants to be seen as successful on his own merits, not because of who his mother is (or was). Nina, however, can't wait to meet Ben, her favourite songwriter—another reason why Con is anxious.
If you know The Seagull, you'll know the concert doesn't quite go to plan as Con decides he wants to be an 'artist' and be 'different', effectively sabotaging the performance. In the fall-out from this, Nina accepts an offer from Ben to support him on his tour, then in his bed, in the process becoming a major solo star known simply as 'Nina'. In a tentative reunion after most of them have graduated, Nina admits to Masha then to Con that her glamorous life as a pop star hasn't been a bed of roses, then they end with a concert fronted by two fairly damaged people, although it doesn't have the same tragic (and melodramatic) ending as Chekhov gave to his play.
It works perfectly well to use The Seagull's basic structure and characters on which to hang this modern-day tale and it is quite possible to forget about Chekhov and enjoy it for what it is. It is billed as 'gig theatre', a style in which Middle Child specialises, but really it is just a play about a band in which the band plays some of its songs, and I'm not sure that putting a few posters around the walls to make it look like a student union justifies creating a new genre for it.
The songs (you can hear a couple of them in our podcast episode about this production) are decent pop-rock numbers, mostly from the band's set list but occasionally sung instead of dialogue like in a musical (non-diagetic), but even the former kind are usually relevant to the mood at the time. Nina's "Muse", complaining about being seen as a muse rather than an artist in her own right, is particularly pointed and clever lyrically and in her delivery and presages her breakup with Con.
It's performed by a talented foursome of Matthew Heywood as pretentious Con, Lauryn Redding, who gives Masha great comic timing and delivery, Tomi Ogbaro as Simon, loyal and persistent, and Flora Spencer-Longhurst as ambitious student and then solo pop star Nina.
It might not be saying anything particularly profound, but it's a fun night out of sex, drugs and rock 'n' roll with lots of humour that looks and sounds good.
Reviewer: David Chadderton