Season's Greetings
Alan Ayckbourn
Belgrade Theatre, Coventy, and touring
(2011)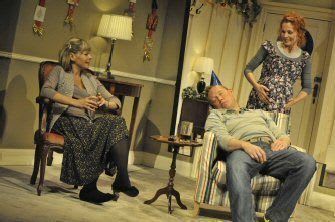 'Christmas creep' is the term used to describe the modern phenomenon by which the festive season seems to come earlier and earlier each year. It's primarily driven by the High Street chains who are all too aware that even the mere mention of the c-word has us reaching for our wallets. This year Bill Kenwright is getting in on the act, beginning his tour of Alan Ayckbourn's Season's Greetings before even the most enthusiastic of retailers has got out the decorations.
In the 20 years since its first performance Season's Greetings has become a Christmas favourite and this tour follows a highly successful revival at the National Theatre last year. Christmas has a way of bringing out the tensions in almost any extended family and this is the premise of Ayckbourn's comedy. Although Neville (Mark Healy) and Belinda (Glynis Barber) are hosting a family Christmas, we never actually see the children onstage and instead bear witness to the childish antics of the "grown-ups".
Ayckbourn's script moves through a number of situations that introduce us to the various members of the family. Some may criticise the tendency towards stereotypes in many of the characters, but it could also be argued that this allows audience to quickly make associations with their own relatives. While there is no family quite like the one in Season's Greetings, much of the play's humour does rely on the audience identifying the underlying truth of Ayckbourn's portrayal of family relationships.
Towards the end of act one and throughout the second act, Season's Greetings becomes increasingly farcical. Ayckbourn was once compared to Shakespeare by an Arts Council Cultural Trends report, and, like many of the great playwright's works, Season's Greetings includes a play within the play. In this case it is Uncle Bernard's (Christopher Timothy) hopeless puppet theatre adaptation of the Three Little Pigs, which is the comedic pinnacle of the show.
Ayckbourn says in his programme note that Season's Greetings was an attempt to "paint the rosier side of the picture" following his darker Christmas comedy Absurd Person Singular. The characters are juvenile, mean, overly emotional and generally dysfunctional, but in the end we can't help but love them. Perhaps you'll be thinking the same of your own family this Christmas.
"Season's Greetings" at the Belgrade Theatre, Coventry, until 1st October.
Sheila Connor reviewed this production at Guildford
Reviewer: Iain James Finlayson