Second Soprano
Martha Shrimpton and Ellie Routledge
Shrimpton & Routledge
Kings Head Theatre
–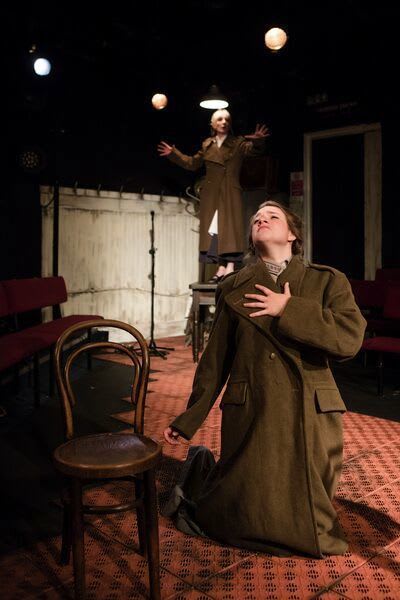 Inspired by the life of Martha Shrimpton's grandmother, a First World War nurse, and her twin sister who stayed on their farm in Yorkshire and worked in the post office, this is a kind of tribute to the nurses and VADs of that generation and the entertainers who kept people cheerful with their songs.
Seen earlier with writers Shrimpton and Ellie Routledge performing their own material and accompanying themselves on accordion and piano, it is now played by Shrimpton and Olivia Hirst, who has also contributed some new material.
Uri Roodner's production presents things very simply as the two of them play the twin sisters Jane and Elizabeth and all other characters, mainly Yorkshire lad neighbour Henry who wants to wed Jane, his army mate Tom and a hard-bitten nursing service matron.
There are lively period numbers from the music hall (ironically including a "white feather" song) that set the mood for the manner of playing, with the performers creating their own barrage of Big Bertha booms and whizz-bangs, a running gag of men at the door and shirts and great coats becoming soldiers.
It is gradually revealed that although it is Henry who is besotted with Jane it is Elizabeth who actually loves him, though he never knows it.
In a rapid-fire sequence (taken a little too fast for comprehension in this near in-the-round staging), Jane explains the events that provide the excuse for the outbreak of war and then we follow Jane to the front.
There is touching poignancy alongside gentle humour. A piling of white shirts, the laid-out dead and dying, becomes very moving. This is a production that succeeds because it is simple and because the performers successfully combine a tongue-in-cheek presentation with real sincerity.
Reviewer: Howard Loxton