Secret Santa
Ollie Birch
Elite Productions
Brewery Arts Centre
–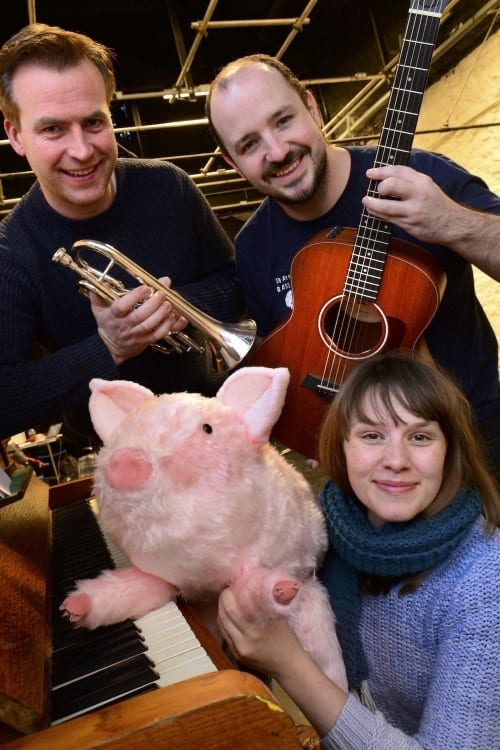 The 10AM matinée performance was full of blue jumpered, excited and well behaved children from a local school, plus a few adults.
Secret Santa opens with a bearded gentleman, in vest and underpants, making preparations for a busy night. He is checking that everything is ready, chatting to the audience and being irritated by pesky neighbour, eight-year-old Holly, who keeps on interrupting him in his important tasks.
Holly suspects that he is not just her neighbour—he is certainly a little odd, has a couple of reindeer and a pet pig. So many excited questions, so many interruptions, so much to do.
The bearded gentleman gets ever so confused feeds the reindeer with the food meant for the pig—and manages to sprinkle Sausage the pig with the Magic Dust meant for the reindeer. Reindeer should not be fed cabbage. It really upsets their stomachs and they are unable to fly. Yes, you have guessed it, he really is Father Christmas.
Plenty of action and plenty of knockabout fun from the hard-working cast of three, some lovely music and songs from the writer, composer and director, Ollie Birch. The jolly confused Father Christmas is played by Joseph Wilkins, Holly is Jane Crawshaw and the vet, singer and multi-instrumentalist Dr Cantankerry is Ross Devlin. The children thoroughly enjoyed the show—lots of chances for them to join in with the cast.
Yes, Father Christmas and Holly did manage to get out to deliver all the presents, the reindeer stayed at home—but pigs might fly…
Reviewer: Denis W McGeary