The Secret of Sherlock Holmes
Jeremy Paul
Duchess Theatre
(2010)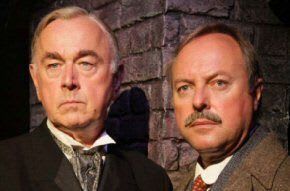 Peter Egan and Robert Dawes here take on the pairing which Jeremy Brett and Edward Hardwicke played in Patrick Garland's original production of this play in 1988. Dawes takes over from Philip Franks who played Watson to Egan's Holmes while Robin Herford's production was on tour earlier this year.
Simon Higlett's richly detailed room in Baker Street is plush with polished desks and tiers of books, a twisted stair leading up to a railed gallery and all the clutter of Holmes investigative paraphernalia. London chimneys rise beyond its walls, their smoke can place us on a railway station or in the mists of a Swiss mountain. Its very appearance already suggests one is in for a carefully contrived treat while Matthew Bugg's eerie opening music and Matthew Eaglands atmospheric lighting add an extra air of mystery.
This is not a dramatisation of a Sherlock Holmes case, though in its course he frequently applies his flare for observation and detection, rather it is a look at Holmes himself and his relationship with his personal Boswell. Its format is of Dr Watson, as in Conan Doyle's fictions, recounting the story of their meeting and subsequent developments. Daws is a warm and very natural Watson, a perfect foil for Egan's briskly pedantic Holmes. This great detective is a man hiding his own weaknesses, a man whose is increasingly the slave of his addictions and slipping out of control when marriage removes Watson from their shared chambers.
Though this is not a thriller or a detective story but it does have a mystery to solve: What really happened at the Reichenbach Falls when Sherlock Holmes met his arch-enemy Moriarty? I'm not going to tell you, that would spoil things, though you may have worked quite a lot out yourself by the first act curtain.
Holmes may be humourless and self-obsessed but that doesn't stop one from liking the master of disguise and finding this straight-faced comic partnership very funny. It's not a great play by any means but it is a lively piece of entertainment and I cannot imagine it being done better.
Runs until 11th September 2010.
Reviewed on tour, with a slightly different cast, by Allison Vale and Sheila Connor
Visit our sponsor 1st 4 London Theatre to book tickets for The Secret of Sherlock Holmes
Reviewer: Howard Loxton