See How They Run
Philip King
Reduced Height Theatre Company
Richmond Theatre
–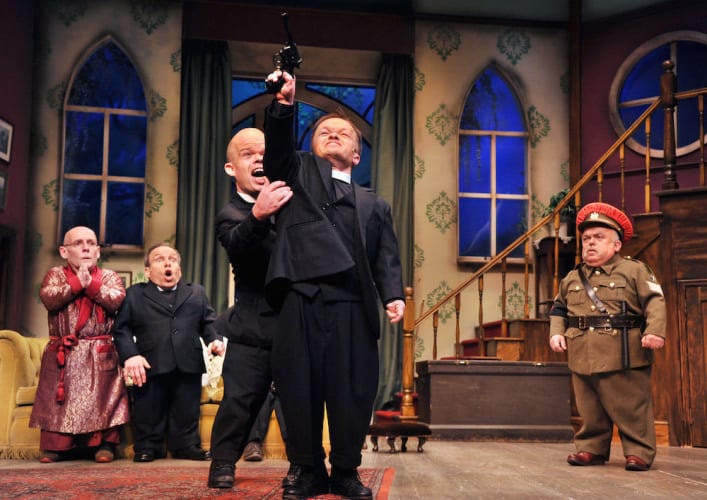 The comedy, says the handbill for this touring production, will be "heightened" by the fact that the cast are all under four feet tall.
Up to now the most likely place for short actors to find work has always been in the music hall, circus, freak shows and pantomime at Christmas. Occasionally along comes a film like The Wizard of Oz or the Harry Potter series and there are more opportunities.
The most famous short actor of the 19th century was the American General Tom Thumb (1838-1883) who performed his novelty act, with song, mime and impersonation, under the direction of PT Barnum, the great American showman who founded the Barnum and Bailey Circus. Tom Thumb was 3 foot 4 inches and his real name was Charles Sherwood Stratton.
One of the most successful American short actors today is Peter Dinklage, the star attraction of the TV series, Game of Thrones. A winner of an Emmy and Golden Globe award, he is cast for his talent, not his size.
The most successful short actor in Britain is Warwick Davies, who for a long time has wanted to appear in classic plays. Realizing that no such offer might ever come his way he has decided to cast himself in his own production and launched The Reduced Height Theatre Company with a 12-week tour of Philip King's See How They Run.
Davies had created a theatrical agency in 1995 to promote the careers of small (under five foot) and tall (over seven foot) actors so he has access to a lot of talent.
"It's not," says Davies, "about the cast or characters being short; there is no comedy derived from that fact. I want the play and the performances to speak for themselves; that's why I am scaling the set to suit the average height of the cast."
Philip King's farce, which opened in January 1945 during World War 2 and ran for 589 performances, always was a bit of a curate's egg. I have now seen four productions and the only time it was really funny, and felt like the modern classic everybody claims it to be, was in Douglas Hodge's touring production in 2006.
A country vicarage full of real and bogus clergy in wartime Britain clearly has farcical possibilities but they are not fully realised. The vicar is married to an actress who decides to have dinner in town with a lance-corporal, a former actor and boyfriend. He borrows the vicar's clothes so that he can get out of uniform and beat the ban on town visits for soldiers. Meanwhile a German POW has escaped from a local camp...
The actors work very hard in Eric Potts's production and take the action at a lick but the play constantly lets them down and they all end up shouting far too much.
It will be interesting to see what the Reduced Height Theatre Company does next. A murder mystery? A musical? A Midsummer Night's Dream? In the meantime, there are lots of classic roles in Shakespeare, Jacobean drama and Victorian farce the immensely talented Davies could play.
See How They Run will visit High Wycombe, Derby, Plymouth, Darlington, Manchester and Cardiff.
Reviewer: Robert Tanitch