See You at the Octagon
Becky Prestwich
Octagon Theatre
Octagon Theatre
–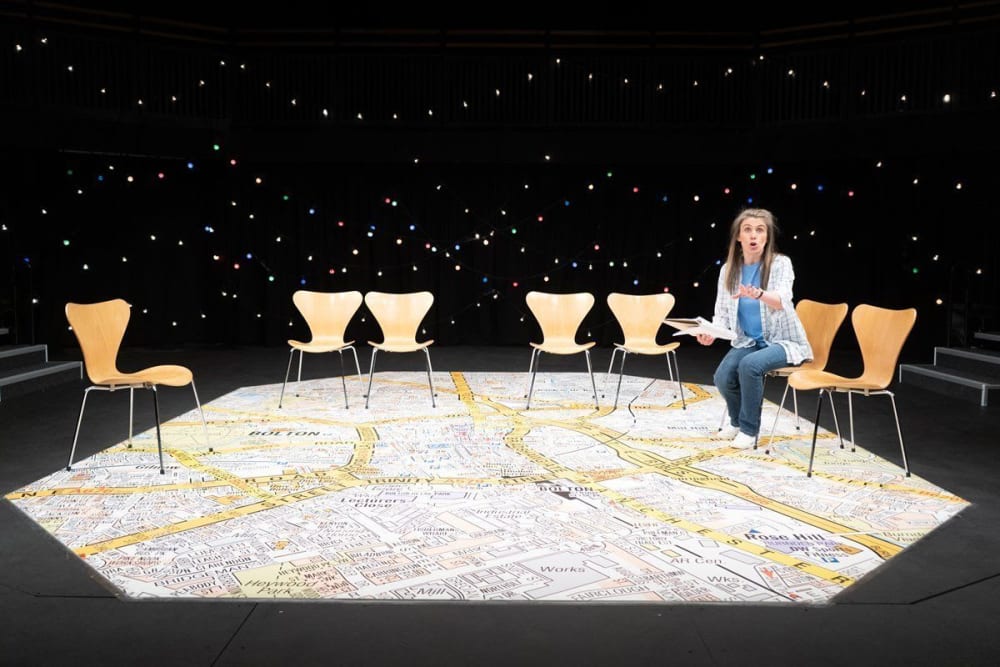 Last night, Artistic Director Lotte Wakeham stood on the Octagon's stage before a deliberately sparse audience in the semi-circular auditorium and welcomed them to the first production in the theatre under her leadership of the company, more than two years after she started in the post. The grand reopening of the refurbished building was due to take place a year ago, but of course COVID prevented that, and even this performance was nearly derailed by yet more confused messages from Westminster that affected visitors to the town of Bolton.
Chief Executive Roddy Gauld followed her with an excellent, uplifting speech that emphasised the importance of stories and how we have missed them, before actor Pegeen Murphy took to the stage for this short solo piece that is all about the stories of ordinary people, focussed particularly on the Octagon and Bolton but also universal, despite the liberal littering of names of local places, shops and eateries through the script.
Murphy starts by explaining that the theatre had asked for stories and memories from its audiences and through a questionnaire in the Bolton News, and from these Becky Prestwich has woven a series of stories that came from real people but with plenty of fictional elaborations to link them together.
Like the rest of us over the last 14 months, the characters in the story, which Murphy brings to life with just a stack of chairs and a map of Bolton on the floor, are waiting for something to happen, but they are all waiting in the foyer of the Octagon before a performance—this performance, in fact.
They aren't just waiting for the show to start though: Josh is waiting for his boyfriend Callum, whom he met at university in Bristol and who is negotiating our unreliable rail system for his first visit to this northern town; Adil has been coming to the Octagon with his wife, Bina, for more than forty years, but now seems to be alone; Anastasia, a nurse from Cracow, is waiting for her 'Greek God' date to arrive; Josh's cousin Nicky has reluctantly left her young child at home to meet her friend Khadija, an usher at the theatre.
Will Callum's train, stopped for no apparent reason just outside Salford Crescent (a grunt of recognition from many at that), arrive in time for the start of the show, and will Josh pluck up the courage to introduce him to his mum? Will the Greek God turn up? Will Adil continue to come to the theatre alone? Will Nicky and Khadija go 'out out' after the show?
It's a simple piece but well told and with characters that draw you in, but as a script and as a production it has several functions to perform, which it does well. First, it introduces people back into an indoor public space gently, as the spectators are widely spread through the auditorium and it only lasts for around 45 minutes. It also introduces the theatre staff back into their roles in an unfamiliar building layout with lots of new regulations and procedures. On top of all that, it makes clear the theatre's close connections to the town and its people and Wakeham's intentions to maintain that through the work that she puts in the new building.
It might have taken me nearly as long to drive to the theatre as this particular play runs for, but it was still nice to be sat in this lovely, friendly theatre once again, and somehow fitting that my first theatre visit in over a year was to where I reviewed for BTG for the very first time back in 2003.
Reviewer: David Chadderton