See How They Run
By Philip King
The Original Theatre Company
Haymarket Theatre, Basingstoke, and touring
(2011)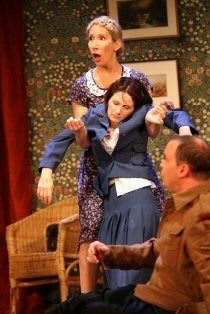 Philip King's hilarious farce See How They Run is a good old fashioned comedy that raises the spirits with jolly japes and comic fun in this current time of austerity rather like it did in the original production during 1945 when it was first produced with the Luftwaffe's doodlebugs dropping on the London's West End during the opening night.
The Original Theatre Company's production is an exuberant, fast-paced gem from beginning to end that embraces all the elements of farce under Chris Harper's assured and inspired direction that had the audience rolling with laughter.
Set in the vicarage at Merton-Cum-Middlewick, delightfully designed by Victoria Spearing, the vicar is expecting a visit from the Bishop and the Reverend Humphrey.
But there are troubles ahead. Spinster Miss Skillon resolutely played by Lucy Speed, has come to complain about the vicar's wife, Penelope, an ex-thespian, splendidly played by Siobhan O'Kelly, who has been decorating the church's alter for the Harvest Festival, a task that Miss Skillon has always carried out.
Miss Skillon becomes increasingly inebriated as she knocks back the cooking sherry or brandy and spends much of her time in a cupboard and is joined by countless characters creating a truly nonsensical scenario.
Alastair Whatley is top-notch as the reverend Lionel Toop who spends most of the play in his underwear and his life is going to be changed forever as the plot roller-coasts through mistaken identity. I don't wish to give away the storyline but it ends up with four vicars, a German POW (Rhys King) and is side-splittingly funny.
As Ida the cockney maid, Rachel Donovan sparkles in an animated physical performance as she tries to juggle with the growing incredulous situations including the arrival of Penelope's ex acting colleague Lance-corporal Winton (David Partridge) who is determined to act out an impassioned scene from Noël Coward's Private Lives that leads to even more confusion.
Arthur Bostrom (better known as Officer Craptree in Allo! Allo!) is impressive as the Bishop of Lax, Penelope's Uncle totally bewildered at the madcap situation he has landed in and ends up in the garden in mud covered pyjamas.
The arrival of Reverend Humphrey (Leo Atkin) who is due to give a sermon at the church causes further misunderstanding and racks up the comedy.
Sergeant Towers (Sebastian Abineri) has some wonderful one-liners as he tries to arrest the POW.
Every farce has a chase scene and the jumping over Miss Skillon lying on the floor in a drunken stupor whether she was there or not was a brilliant piece of invention.
This was a production that exuded fun in what was a fast and furious production performed by a talented cast that left the audience enthralled and still laughing as they left the theatre.
"See How They Run" tours to Bury St Edmunds Moreton Sports Hall 25th -29th October, Worthing The Connaught Theatre 17th - 19th November, Buxton Opera House 25th -26th November and Berwick The Maltings 2- 3rd December.
Sheila Connor reviewed this production at Guildford
Reviewer: Robin Strapp