Seeing Double
Reality by Ali Muriel / Future Regrets by Rosalind Wyllie
RSC / Live Theatre production
Live Theatre, Newcastle
(2010)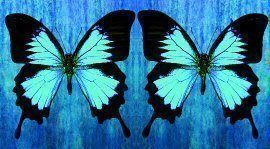 It's not usual critical practice to review script-in-hand rehearsed readings, for it usually means that the scripts are still in development and the actors and directors have had very little time to work on the pieces.
However this one is a bit special as it's not often that writers from the regions get to have their work performed on their own turf by members of the Royal Shakespeare Company long ensemble. Last year writers Ali Muriel and Rosalind Wyllie were part of a group which provided 20 minute pays for the RSC/Live collaboration Tyneside Stories and this year they have been invited back to produce 45 minute plays which were developed in sessions in Stratford and rehearsed with a cast of RSC and local actors in three days and performed over two nights in the Newcastle Quayside venue. How many playwrights early in their careers get the chnace to see theiur work performed in public by actors of the calibre of Mariah Gale and Sam Troughton?
Ali Muriel's Reality takes us into the world of conspiracy theories, the idea that it is the deliberate policy of a branch of the British government to create fear within the population. Jeremy Gates (James Howard), a university professor, uncovers a raft of evidence which tends to show this but he has a history of mental illness. He writes letters to the Prime Minister, even the Queen, to no avail and so tries to force his way into Thames House, the home of MI5, and so finds himself arrested and facing interrogation by a police office, a detective chief inspector (James Traherne).
Is it all in his mind? Some of what happens certainly is, but the rest? Muriel keeps us wondering right up to the end - but even then we're not 100% sure, not about everything. It's an intelligently written, gripping piece and the cast of seven, five RSC and two local directed by Live's Steve Gilroy, did it justice.
Future Regrets by Rosalind Wyllie plays with time and space (and cyberspace), taking us on a journey to Venice with Lara (Mariah Gale) and her new husband Tom (James Howard). Wyllie mixes their story (played backwards for part of the time) with computer games, Facebook and the inhabitants of online chat rooms. A recipe for producing a very confused audience, one would think, and yet she and director Justin Audibert (assistant director for the RSC Long Ensemble) make it crystal clear just where we are at every stage. Actually, that's apart from the very dramatic opening which does have us wondering if we have somehow wandered into a stage version of a Hollywood horror movie - but all is explained early on. But you really do need to have some experience of Facebook or some parts would be a bit difficult to follow.
A play about computers then? Partially, but it's really an anatomy of a relationship told in a very 21st century way.
Four years ago I saw Wyllie's first play, Green Beans, which I described as "a remarkably assured piece of work" in its characterisation, dialogue and playing with the form. Those same elements are present here but she has clearly matured as a writer, handling complexity of both form and content with a growing skill, establishing herself as one of the best playwrights to emerge in the region in the last ten years.
All kudos to the RSC and Live for giving new playwrights a fantastic opportunity to flex their writing muscles and to the NE contingent of director Steve Gilroy and actors Victoria Elliott, the very young Sarah Lewis Obuba and Karen Traynor for more than holding their own in such distinguished company.
Reviewer: Peter Lathan