Seesaw
Stewart Melton
Unicorn Theatre
–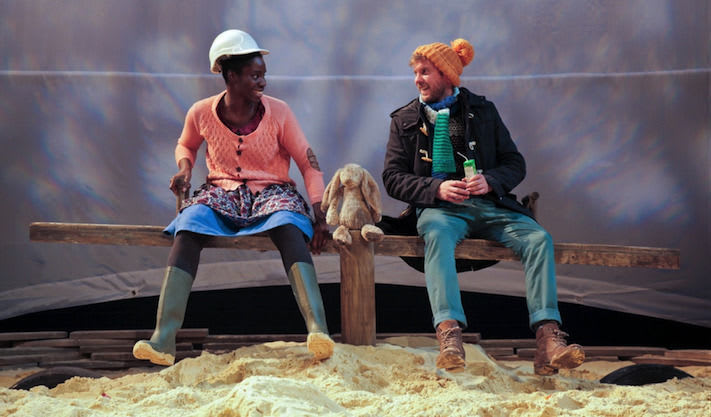 There is a big sandpit, edged with a low wall, a seesaw, a cuddly soft toy rabbit—and a girl. She is wearing a white construction worker's helmet and she is drawing in the sand with a tree branch. It's a picture of herself, of a tree—and the rabbit. Even if we can't see from where we are sitting we know what the picture is because she tells us.
Is it a rabbit? With those long ears could it be a hare for she calls it Hairy, or may be Harry. It is obvious she loves it.
When she goes, a boy comes into the sand pit. He's drinking with a straw from a carton that he throws to the ground when he's finished. Then he relents and puts it into a waste bin, We know from what he says and the way he looks round at us, to check it's OK to do what he's doing, that he's been brought up to behave very well. He is not nearly as independent as the girl is.
These two and their interaction are the play. She may be independent but she not very trusting and a little bit selfish. He has a mantra of adult instructions like "be brave, don't cry" and they have picked up expressions such as "I have had it up to here" and "get out of my sight!".
Their successive encounters go from friction to concord. He offers some fruit juice. She drinks the lot. He grabs her drawing branch. She thinks he has hidden her rabbit. There is pushing and shoving and both take a tumble but, just as they gradually discover that a seesaw requires cooperation and balance to enjoy it, they learn to share things and do things together so that quarrels and tensions all end up in smiles.
It is a simple moral metaphor that puts things gently and is aimed at age 3 and upwards but adults will be engaged by the straightforward honesty of the way it is played by Rebecca Omogbehin as the girl and Christian Roe as the boy, with Roe especially making the audience complicit through the boy's need for approval
In the audience I saw it with two fractious toddlers, unused to theatre, who were soon won over and even a dummy-sucking tot was entranced by it. When, after their enthusiastic applause at the end, there was just a hint of an invitation to join the actors and Hairy in the sandpit, the little girl next to me was there in a moment with others, more cautious, soon following.
Director Sarah Argent has specialised in theatre for the very young and she certainly knows what she is doing. Seesaw may have a lesson to pass on to its audience but first and foremost it is fun.
Reviewer: Howard Loxton