Semiramide
Gioachino Rossini, libretto by Gaetano Rossi, based on a play by Voltaire
Met Opera on Demand
Metropolitan Opera House, New York
From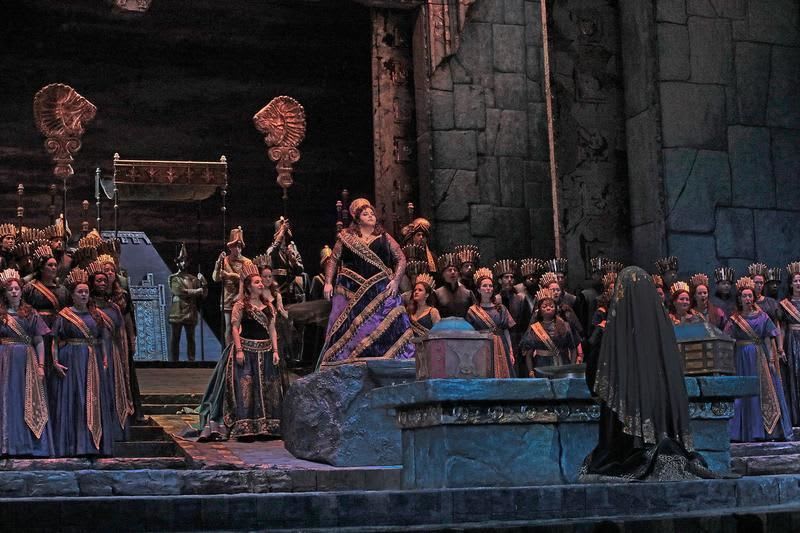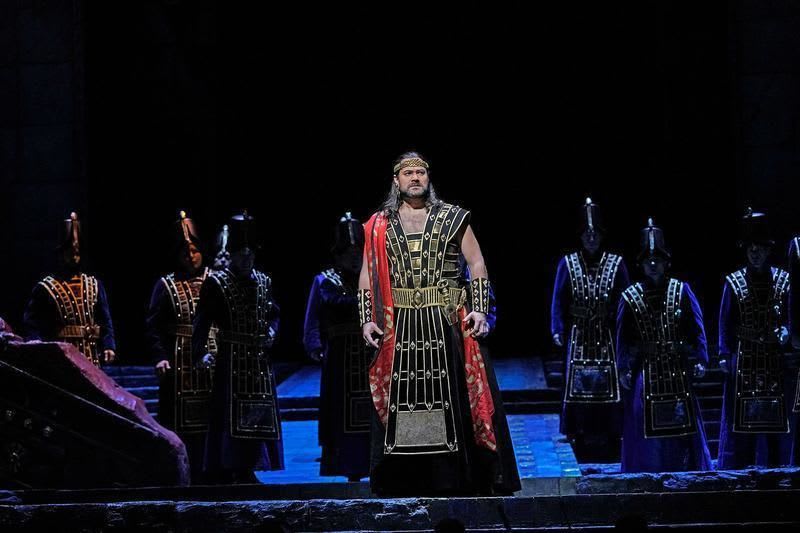 Gioachino Rossini's rarely performed Semiramide, based on a play by Voltaire, is bel canto, all high notes and coloratura, a showcase for singers to show off their skills.
The opera had its première in Venice in 1823 and remained in the repertoire for the whole of the 19th century. It is rarely performed today because the singers who are up to its challenging music are few.
John Copley's production was seen at The Met, New York in 2018. Angela Meade was Queen Semiramide, Elizabeth DeShong was Arsace, Javier Camarena was Idreno, Ildar Abdrazakov was Assur and Ryan Speedo Green was Oroe. The conductor was Maurizio Benini.
The action takes place in Babylon. There are no hanging gardens in Copley's production (why not?) and the only person who looks remotely cruel and barbaric is Abdrazakov.
Semiramide, mythical queen of Babylon, murdered her husband, King Nino, with the help of Assur, her lover. She now needs a king. Assur, who naturally presumed she would marry him, is very put out ("I will crush you") when she declares she will marry a young warrior, Arsace, who is already in love with somebody else.
The dramatic high spot, finely sung by the principals and the chorus, is the appearance of the Ghost of King Nino who tells Arsace he will be the future king but only if he kills his murderers. The final scene takes place in King Nino's tomb. Three people brandishing swords in the dark means somebody is bound to get hurt. The only question is who?
Arcase, a role for a high tenor, is sung by Elizabeth DeShong who never looks like a man and it is difficult to imagine her as the commander of the Assyrian army. Meade and DeShong stand and deliver, concentrating on the singing rather than the acting, and this is absolutely fine for those who have come just for the singing. Camarena as Idreno, who is deeply in love with a princess who rejects him, fares even better and his arias are regularly cheered by the Met audience.
Abdrazakov has voice and physical presence as Assur; and he is the only one who can really act. There is strong support from Ryan Speedo Green as the High Priest of the Temple of Baal. It is he who tells Arsace that Semramide [SPOILER] is actually his mother. Mama Mia! Mama Mia!
There are a number of ways of tapping into this opera and others at will. The Met Opera on Demand service offers annual ($149.99) and monthly ($14.99) subscriptions as well as a one-off payment ($4.99) for those who have limited time or only want to watch the occasional opera.
Reviewer: Robert Tanitch