A Sentimental Journey
Adam Rolston
The Mill at Sonning Theatre
Wilton's Music Hall
(2010)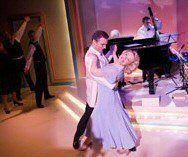 In 1945 'Sentimental Journey' was the first big recording hit for Doris Day, whose story this show tells. Born Doris Kappelhoff in Cincinnatti in 1922, as a teenager she was already singing with big bands and made her first movie in 1948.
I wasn't a great fan of all the romantic comedies she made, often with Rock Hudson, but I do remember her in a very dramatic Klu Klux Klan drama Storm Warning and the delightful Calamity Jane was a real tonic one night during the grim days of basic training when in the RAF. I still remember some of the numbers so I looked forward to this show, brought in to London after being staged last year at Sonning.
It really isn't much as a play, more like an excuse for 'The Doris Day Songbook', another of those shows contrived to frame a sequence of hit tunes or golden oldies. But it does this very cleverly in narrating Day's biography which is not entirely what you might expect if you don't already know it. As this script quotes, Groucho Marx quipped that he 'knew Doris Day before she became a virgin' and things certainly are not all sunshine and roses.
In a life that ranges from Doris Mary Ann von Kappelhoff, the little girl who wet her pants on her first stage appearance to the 88-year-old Presidential Medal holder devoting herself to animal welfare there is a lot to cover in two hours playing time. There is not much chance of extended dramatisation when you have to pack in her parent's divorce, a car crash with a railway train that ended hopes of a dancing career and made her concentrate on her voice, becoming a big-band soloist at 15 and a teenage bride with a trombonist husband who beat her up so that by 21 she was a divorced single mother; followed by three more marriages, including a husband whose business partner took all her money, leaving her penniless and a several-year-long court case to get her money back that won her $22 million - let alone making dozens of movies and recording hundreds of songs.
What you get is the main points told by her son Terry (Ian McLarnon) with interruptions and additions from his mother and 25 of her best known songs carefully slotted into appropriate places in the story. She didn't like her stage name, or the song that became her signature tune, was pushed into a work load that gave her a breakdown, and a television career she never wanted and clearly was not a good judge of men.
Elizabeth Elvin plays her mother and all the women we meet and Glyn Kerslake and Mark Halliday between them play all the husbands, band leaders and other men in her life. Rock Hudson barely gets a look in though in one number Frank Sinatra (Kerslake) does. There is a genuine pathos in one scene where years after she has become successful she briefly re-meets her father (Halliday) and a hilarious dance treatment of 'Pretty Baby' where the three of them are infants in baby hoods and nightdresses.
McLarnon gives such personality to his telling of the story that it disguises the lack of depth as we rush on from number to number and there is a real sensitivity in the relationship between him and his mother, their duet the best thing in the show, but essentially this is all about Sally Hughes as Day.
Hughes is not quite strong or witty enough to make a ride around the audience in a makeshift Deadwood Stage come off successfully but she delivers almost every other song in a way that closely recalls the original without making it sound like impersonation: she makes the songs her own. They are great songs too -- and what a delight to go to a musical where you don't have to take precautions to protect your ear-drums and you get words and melodies. Does that sound old-fashioned? Well, there is nothing wrong with that and the night I went it was an old fashioned audience many of whom probably saw Day's movies in the cinema not as television reruns -- they loved it.
It is played out in front of the excellent four-piece band led by arranger Jo Stewart on Eileen Diss's candy-floss coloured set with a lot of appropriate surprise pink in Filippo de Capitani's lighting and with some stylish and glitzy dresses by Jane Kidd. It is a simple show but director Alvin Rakoff has turned a thin script into something entertaining. It is not just a nostalgia evening. These performers give it great energy and you've got numbers by the likes of Rodgers and Hart, Jules Styne and Irving Berlin. If you like to hear good tunes well sung then this could be a show for you.
Until 4th April 2010
Reviewer: Howard Loxton