September in the Rain
John Godber
Theatre Royal Studio, York
(2006)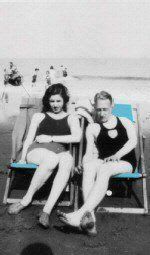 Do you remember the golden age of Blackpool holidays - donkey rides, talent contests and the sight of your Dad with his trousers rolled up and a knotted hanky protecting his bald spot from sunstroke? John Godber's 1983 two-hander conjures up this lost world so vividly that, even if you're a member of the Costa del Sol generation, you can almost feel the sand in your socks and hear the rain bouncing off your pac-a-mac.
Godber's protagonists are Jack, a Yorkshire miner, and his wife Liz (played by Hull Truck regulars Rob Angell and Fiona Wass). The highlight of their year is a week in Blackpool taken in the climatically dodgy month of September (hence the title). We first meet them as young couple trekking to Blackpool in their Ford Popular and follow their progress through parenthood to old age, when they stroll sedately along the seafront for the last time before taking the Wallace Arnold bus home. Claustrophobically small rooms, predatory landladies and decrepit donkeys are the stuff of which holiday memories are made, and as with all of Godber's best work we find ourselves smiling - and occasionally wincing! - in recognition.
Rob Angell gives a marvellous performance as Jack, a man of few words - most of them "aye" - and strong emotions. He becomes wildly jealous when Liz teases him about an attractive waiter ("I could be attractive if I looked like that!") and is moved to tears by a performance of his favourite show, The Student Prince. Fiona Wass is equally funny and touching as Liz, threatening to leave the taciturn Jack halfway through the holiday and coaxing him into admiring the view from the top of Blackpool Tower (during a terrifying gale). Occasionally the actors step out of character to become aggressive lorry drivers, fellow boarding-house guests and, in one delightful scene, the MC and contestant at a talent show - Wass, as the couple's little daughter, gives a high-speed rendition of "My Girl's a Yorkshire Girl". Nick Lane's direction ensures that this postcard from the past reaches us with all of its humour and pathos intact.
Studio spaces tend to bring out the best in designers - when space is limited there can be no redundant elements - and Catherine Chapman rises to the challenge. A sepia-tinted backdrop showing the Golden Mile, plus a string of coloured lights and a couple of deckchairs, are all we need to illustrate Godber's words and trigger our own memories.
At the Theatre Royal Studio, York, until 11th March
Reviewer: J. D. Atkinson