September Tide
Daphne du Maurier, adapted by Mark Rayment
An Ian Dickens Production
Yvonne Arnaud Theatre, Guildford, completing a National Tour.
(2007)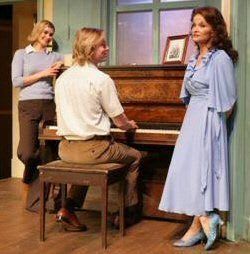 The centenary of du Maurier's birth has brought a flurry of renewed interest in her life and work, including a BBC Two docudrama covering her unreciprocated passionate attraction to Ellen Doubleday, the glamorous American wife of her publisher. Finding that sexual love was not an option, she eventually transferred her attentions to actress Gertrude Lawrence who also, it is believed, had been the mistress of her father, actor manager Sir Gerald de Maurier. Her best known and well-loved work is the novel Rebecca, but perhaps this play is the more intriguing as it is understood she portrayed herself as the male character hopelessly in love with an older woman, in this case his mother-in-law. "Everything I write," she has said, "comes from some sort of emotional inner life", an inner life which in the nineteen forties when the play was first performed could only be hinted at, but with today's obsession with sexuality has to be brought out, examined and dissected.
That the story is set by the sea, and in the Cornwall she loved, is very obvious from the beginning with the sound of crashing waves and noisy seagulls distracting from the dialogue, the intermittent horn of the incoming ferry not helping one bit, but as the characters develop the noise fades into the distance, and in David North's two level intricately detailed set of a large and comfortable home, Kate O'Mara, as widowed Stella Martyn, is excitedly waiting for her daughter to arrive, bringing her new husband, the celebrated artist Evan Davies.
This mother has indulged her two children, waiting on them hand and foot and creating two extremely selfish adults, but when daughter and husband arrive, it appears that he is the more selfish, expecting his bride to fall in with his wishes which – to the consternation of Stella and the disapproval of housekeeper Mrs. Tucket (Vivien Keene) – include sleeping in separate rooms. "I wonder if all modern marriages are so lacking in romance," says a bewildered Stella, finding the changing standards and morals of a post-war Britain hard to understand.
David Griffin gives a nicely judged portrayal of neighbour Robert, in love with Stella, and who cannot comprehend the cynical self-obsessed behaviour of Davies. He is especially annoyed by Davies' consumption of copious amounts of whisky .
Du Maurier's Cornwall is full of swirling mists and mysteries, and it is a mist which keeps daughter Cherry away from home one evening when her husband and her mother admit their feelings for each other. Much is made of the expected powerful and dangerous September tide which sweeps all before it, often claiming lives – the sea and the torrential rain leading to some sexy soakings for our hero Evan in a moving performance by Edward Baker-Duly. Beginning as cold and cynical, obsessed with his work and himself, he gradually changes and softens, becomes tender and caring. Love changes all in true romantic sentimental style.
Sensitively portrayed, although occasionally almost slipping into melodrama, O'Mara is at her best when in a panic and not knowing which way to turn. Cherry, played by Kim Tiddy, is superficially brittle and unfeeling but finally reveals her love for both husband and mother, and the story is neatly tied up at the end with the head ruling the heart, perhaps Du Maurier's own solution.
Reviewer: Sheila Connor