Sequins on My Balcony
Yvette Cowles & Peta Lily
Rosemary Branch Theatre
–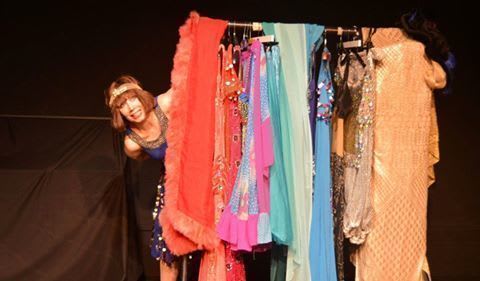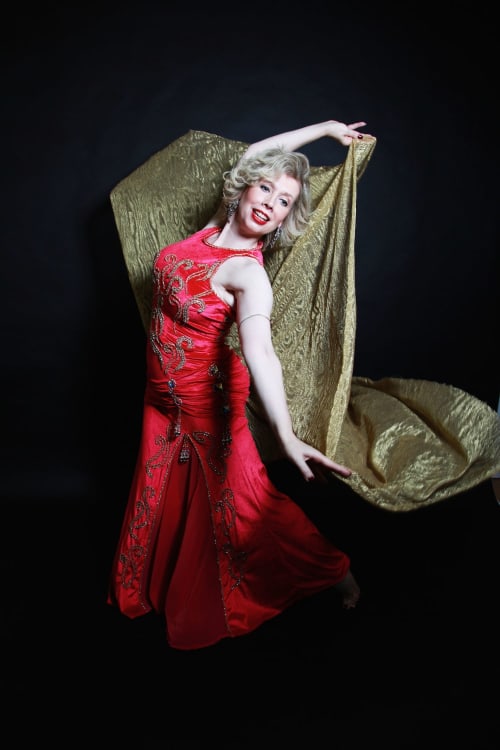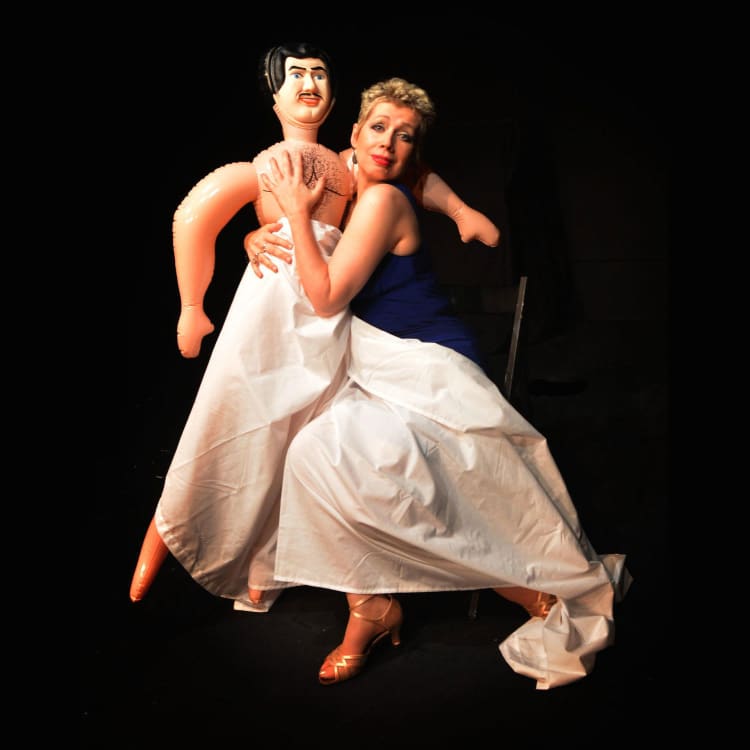 This hour-long one-woman show performed by Yvette Cowles is a life affirming celebration of belly dance that cocks a snook at cancer.
She offers her own potted life story that rapidly takes her from teaching English in France, where she felt an outsider until she was befriended by three Algerian women who introduced her to belly dancing, then back to Britain to secretarial college and 20 years in publishing as a marketing director.
Discovering belly dance classes available over here, it became her hobby and, from the frequency with which she interrupts her story, some might say her obsession.
From the dresses, shawls and other glittering adornments on display, it is easy to see where the sequins part of her title originates but the balcony is perhaps more significant. It is one of the euphemisms (French one) for breasts and Miss Cowles breaks the ice and gets past any audience awkwardness by asking them to give her lots of other common words or euphemisms for bosoms, titties or whatever they can come up with.
Why are breasts important? Because, as she tells us, despite the shapely curves her body displays, she has none. Cancer led to a double mastectomy and, as if that were not enough, she has had the Big C three times. Chemotherapy, hair-loss, wigs and prosthetics haven't lessened her passion for shaking, shimmering abdominal abandon (or rather strict abdominal control to produce those movements) and she is continually punctuating her story with demonstration.
She doesn't actually get the audience to leave their seats and join her, but she does provide a little instruction in ululation and that is certainly something she welcomes as participation.
Miss Cowles is a relaxed, friendly and very attractive performer. She tells how she dumped her French boyfriend when he wanted her to give up her dancing. You can't help but wonder at how stupid he must have been. Did she miss him? A friend presented her with a blow up plastic companion to replace him: another Dick, for so she named him.
This seems a slight, light-hearted piece but, while amusing, it is making its points about cancer awareness and by demonstration proving that there is life after treatment. Director and co-writer Peta Lily keeps her production simple, making it the more effective.
You can't help but be touched by Miss Cowles's positivity and resilience and she plays herself as no one else could. Enlarging things just a little and carefully in control, she makes clever performance seem spontaneous. It's a show that's worth supporting if it comes your way.
This is Breast Cancer Awareness Month and this brief run at the Rosie was presented in support of Cancerkin, a charity located at the Royal Free Hospital in Hampstead that offers free emotional and practical support to anyone affected by breast cancer.
Reviewer: Howard Loxton