Seven Brides for Seven Brothers
Book by Lawrence Kasha and David S Landay, music by Gene De Paul, lyrics by Johnny Mercer, new songs by Al Kasha and Joel Hirschhorn, based on the MGM film and The Sobbin' Women by Stephen Vincent Benét
Open Air Theatre Regent's Park
–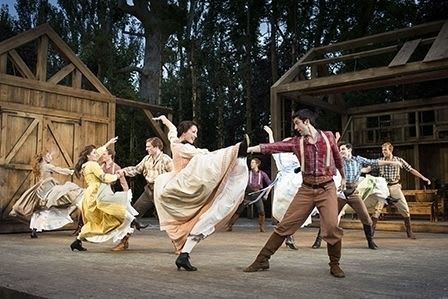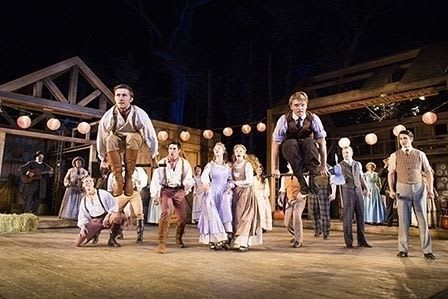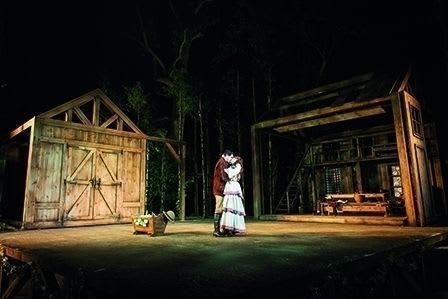 Whoever thought the rape of the Sabine women was romantic? But that, of course, was the inspiration for this lively musical in which a band of brothers abduct a bunch of girls and carry them off to their mountain cabin.
We've now junked the chauvinistic attitudes of 1954 when the film original of this was made but the feel-good flair of this fine production blocks gender political worries about the plot 'cause it's such fun. Waitress Milly, beguiled by woodsman Adam's instant courtship, may find she's been whisked off to be a skivvy for his brothers, but she soon gets the upper hand.
Back then, it was the movie's dancing that impressed me. Choreographed by Michael Kidd and led by Jacques d'Amboise, Tommy Rall and Russ Tamblin, this showed male dancers in a different light—West Side and the Nureyev effect were still to come.
Years later, seen on television, it wasn't so startling and I noticed its great songs. Alistair David's sparkling new choreography here recaptures that excitement with a company that not only delivers its fast footwork, leaps and acrobatics but sings its rather old-fashioned tuneful melodies superbly too. An evening when all danger of rain retreats and the late evening coolness stays away helps make the right mood too, but Rachel Cavanaugh's joyous production makes a lovely night out.
The company is lead by Laura Pitt-Pulford's delightful Milly and Alex Gaumond's Adam you can't help liking, however improper his behaviour. They make a splendid pairing but every member of this company delivers and earned the standing ovation they got on opening night.
Designer Peter Mackintosh puts a timber built township on stage with tall pines that turn this patch of Regent's Park into an Oregon forest, interiors truck out to give fast changes and winter turns rapidly to spring as an edging of snow is swept off the stage rim.
Gaumont's Adam begins his wife hunt journey moving through the audience's middle, a rifle-bearing posse determined to get back their daughter, the girls themselves with cookies all take the action out into the auditorium, but even without such audience contact the energy that's generated on stage is infectious.
Milly and the brothers are hilarious in "Goin' Courtin'" in which she teaches them PC wooing and dancing, the bearded and long-johned boys individually disappearing to re-emerge all smartened, smooth-faced, and nimble-footed, weeks of reformation wrapped up in moments.
The dance-off competition between brothers and town boys is sensational and, if the barn raising that follows fails to cap it before it bursts out in choreographed battle, just wait until the fireworks of the finale.
Once again, it is the male dancing that I will especially remember but the girls are really good too and the songs and the band—even the sound balance is sorted. I'm told that I was sobbing with pleasure.
The Open Air can chalk up another successful musical. Men may have moved on and women won some of their battles but hey, these are the mid nineteenth century American backwoods, when things were like that, just enjoy it—and may you have a balmy evening to make it perfect.
Reviewer: Howard Loxton