Seven Brides for Seven Brothers
Lawrence Kasha and David S Landay (book); Gene De Paul (music); Johnny Mercer (lyrics); Al Kasha and Joel Kirschhorn (new songs)
Paul Nicholas, George Critchley, Peter Frosdick
Opera House, Manchester
–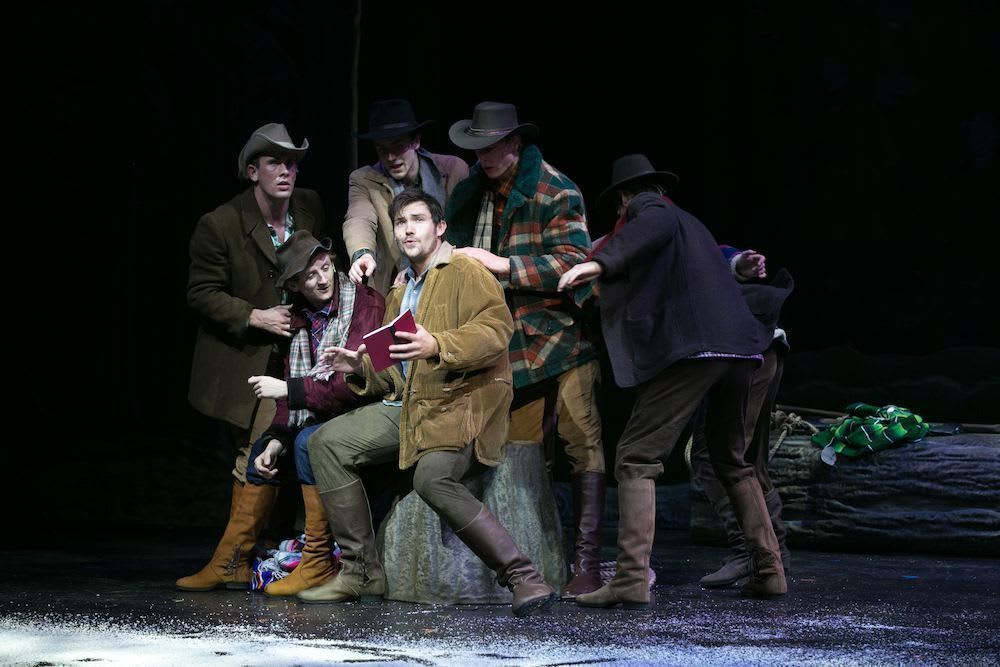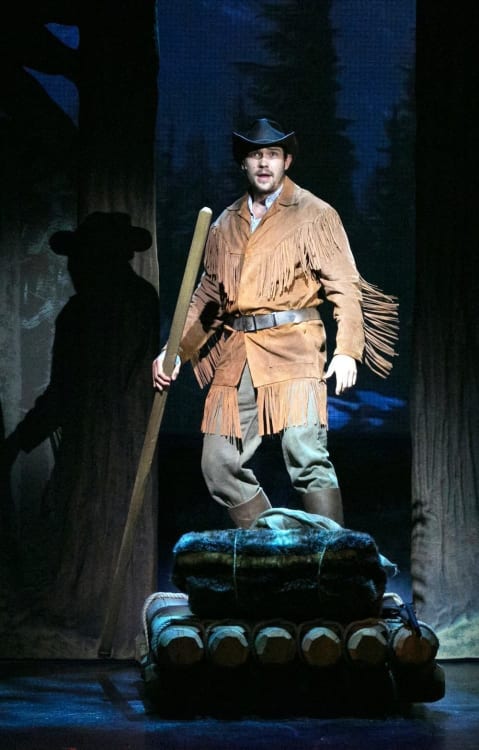 It's Oregon in the 19th century. Rugged trapper, Adam Pontipee has come to town to trade his furs and find himself a wife.
Milly, the lucky girl he settles on, decides that she needs to knock some corners off his six very rough brothers, if they're ever going to find wives of their own and leave the family homestead. Having met, but not quite won, the unwed girls of the town at a boisterous social dance, the brothers are persuaded by Adam to take a more forceful and direct approach to "courtship".
Let's just accept that this is not a story you could pitch to a 21st century producer—boys meet girls, boys get parted from girls, boys kidnap girls, who, naturally, fall in love with boys. "Tell me again. You want to write a fun family musical about Stockholm Syndrome?"
The simple truth is, almost sixty years since its first airing, Seven Brides for Seven Brothers is still packing them in (it's mayhem in the Opera House foyer, this evening). Maybe the appeal lies, as my companion suggests, in a secret desire that still lurks in the heart of many women; to be thrown over a real man's shoulder and carried off into the woods? (Hey, don't shoot me, I'm just reporting this view).
7B47B (as it will no doubt be known on Twitter) is built on surprisingly few memorable tunes. I count four ("Bless Your Beautiful Hide", "Wonderful, Wonderful Day", "Goin' Courtin'" and "Sobbin' Women") all of which feature in act one, along with the choreographic tour de force of the Social Dance. This last, in which the brothers compete with the local boys to impress the girls of the town, is boldly and athletically staged, with a breathtaking blend of hoedown, ballet and gymnastic vaulting and tumbling. It receives a prolonged ovation from the audience and deserves all that, and more.
How Do You Solve a Problem Like Maria? runner-up, Helena Blackman makes a very fine Milly. She has the voice and the 'spunky gal' demeanour for the role. Who wouldn't fall for a woman whose 'stew don't even need ketchup'? Sam Attwater's Adam is well-received but not comfortably cast. He sings tunefully, but lacks the authority and richness of tone needed to fill the mighty boots of Howard Keel. The rest of the cast earn their places in a strong ensemble, with Jack Greaves (Gideon) and Georgina Parkinson (Alice) seizing their opportunity to pile on the charm.
While the songs are pleasant and occasionally moving, the real power of the show resides in its choreography (Patti Colombo and Karl Warden). The Social Dance spectacular is almost matched by a beautiful, balletic "Spring, Spring, Spring."
The contented audience would, I think, like the chance to give the cast a rousing cheer on their final bow. (Note to the musical director: perhaps a short pause in the finale would allow for this).
Reviewer: Martin Thomasson