Stealing Seven Hens
Gordon Meredith
Folk Theatre
East Riding Theatre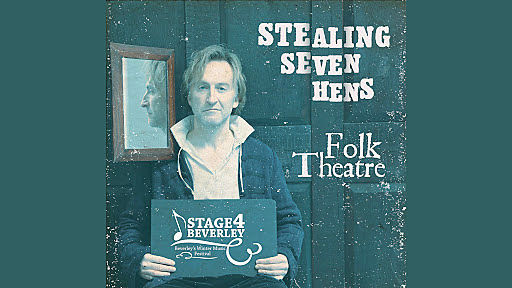 Stage4Beverley Winter Festival afforded Gordon Meredith's company the opportunity to première his new play, Stealing Seven Hens, a fascinating insight into people from our region who were 'shipped off' to the colonies if they committed the kind of heinous crime the title describes. When the Americas indulged in the sheer audacity of proclaiming independence, those prisoners destined for transportation languished, instead, in the hulks of decommissioned warships whilst an alternative destination was found. Australia's gain was undoubtedly their indigenous population's loss.
Over the last few years, Meredith has fashioned a style of theatre he has dubbed Folk Theatre. In his own words, it tells "real stories about real people using oral testimonies, folk music and theatre". And it seems to be working well for him, because on Saturday afternoon the play was performed to a capacity crowd in Beverley's East Riding Theatre.
At the heart of this play is the story of Snowdon Dunhill, a notorious thief operating in the East Riding and nicknamed 'The Terror of East Yorkshire'. Played with rumbustious good humour by the author, the so-called 'terror' is something of a likeable rogue who, nevertheless, helped himself to the property of others on an industrial scale. Eventually, the law caught up with him and he was transported.
The drama is played out between Meredith and fellow actor Jane Hollington who portrays the equally villainous Sarah, wife of Snowdon, with palpable relish. The strongest moments of the piece are the interplay between husband and wife as she scolds him for not stealing more! Ultimately, however, the story is a tragic one, as the 'justice' meted out to Dunhill and his contemporaries (nearly all his family were transported too) far outweighed their crimes. Dunhill, himself, met a lonely end in gaol in Van Diemen's land—later renamed Tasmania.
The action is significantly enhanced by local multi-talented balladeer Phil Simpson. His many original songs, played on a variety of instruments, do more than comment on the action; they're a very useful storytelling and mood-setting device. Stage4Beverley is, ostensibly, a music festival so Simpson's involvement was particularly relevant as well as welcome.
The play's overarching framing device is a court case where a 21st century barrister holds the 18th century justice system to account for crimes against humanity. Although this enables the revelation of some truly horrific facts (who knew that 25% of prisoners on the second transportation to Australia died en route?), it's a contrived and awkward vehicle. That so-called justice, which led to this country ridding itself of so many petty criminals, was inhuman is beyond argument, especially when viewed through the prism of 21st century liberalism. We don't need lengthy passages of dialogue between the two barristers to reinforce the point; it's already well-made in the action.
Some effective research has been translated into engaging storytelling and solid performances. Stealing Seven Hens undoubtedly has a future, particularly touring to the rural communities of our region. To capitalise on its potential, the company needs to develop more action and dialogue from the historical characters and, perhaps, revise the structure. This is a great piece of theatre in the making, which is not yet fully realised.
Reviewer: Richard Vergette