Sex, Chips and Rock 'n' Roll
Debbie Horsfield and Hereward Kaye
Royal Exchange Theatre, Manchester
(2005)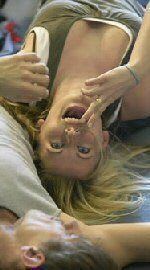 We seem to be having a summer of love in Greater Manchester theatre at the moment; first we had Jim Cartwright's Eight Miles High at Bolton Octagon set at a 60s hippy rock festival, and now we have Debbie Horsfield's Sex, Chips & Rock 'n' Roll, also set around the 60s music scene. While neither production has a strong storyline, the Octagon's offering was considerably more fun to watch than the Royal Exchange's latest production.
Based on Horsfield's 1999 television series of the same name, the play tells the story of twin sisters from Eccles, Arden and Ellie Brooks, who both become involved with the lead singer of an up-and-coming rock 'n' roll band The Ice Cubes, Dallas McCabe, just as the band is signing a big record contract and moving to London. Ellie is engaged and about to married to local businessman Norman who owns a fleet of chippy vans, but one or both (or possibly neither) of the twins falls pregnant to Dallas.
As a story, this has some potential, but unfortunately it just does not come over in the production. There are bits of storyline that appear briefly and disappear without contributing anything significant to the plot - perhaps remnants of stories that were more developed in the television series. The songs are pleasant but not striking with lyrics that say nothing significant and at times are quite poor, and it seems as though the writing team does not have a basic understanding of the relationship between songs and dialogue in musical theatre. The whole thing comes over as a collection of slightly bland pop songs strung together with weak dialogue.
However some excellent musical theatre performers have been assembled for this cast. Tracie Bennett, who plays the twins' mother, has gained quite a reputation in musical theatre since leaving Coronation Street, including a wonderful Olivier Award-winning performance in She Loves Me in the West End. She seems a little wasted in this fairly small role, but does her best to make the most of the material she has been given.
Another more recent West End award winner is Emma Williams, who was a Most Promising Newcomer as Truly Scrumptious in Chitty Chitty Bang Bang, here playing and singing the role of Ellie very well. David Birrell is also very good as her older fiancé, Norman, with a lovely light tenor voice. Dean Stobbart does a good job of the heartthrob Dallas McCabe, with some good support from Ben Sutherland and Ben Barnes as the other members of the band and Elaine Glover, who is excellent as Ellie's sister Arden. Of particular note is Paul Ryan's performance as the band's manager and former lead singer, Larry B Cool; his performance is lively and funny and he brings every scene he is in to life as soon as he enters.
Conor Murphy's design sets the era very well, but there are elements of the stage design that are unnecessarily ostentatious. For instance, a VW camper van converted into a chippy van is driven onto the stage a couple of times without adding a great deal to the scenes or the story, and at one point a Mini is driven on stage and off again for a brief, insignificant scene. There are some phasing problems with the sound - at least there were where I was sat - that make the sung vocals seem dull and they actually sound quieter than the dialogue for which microphones are not used. Ann Yee's choreography contributes well to the setting of the era, especially in the scene in the studio for the TV programme Ready Steady Go.
This production was listed in a previous season at the Royal Exchange but was postponed because it was not ready. This season, a great deal of money has been spent - not always wisely - on a production of a script and score that still does not seem to have successfully made the transfer from screen to stage.
"Sex, Chips & Rock 'n' Roll" runs until 6 August 2005
Reviewer: David Chadderton