A Guide to Sexual Misery
Written and performed by Wolfgang Weinberger
Leicester Square Theatre
(2009)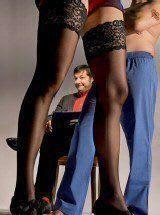 Wolfgang Weinberger's comedy sex therapy lecture warns it could "dramatically change your sex life!" This claim may not be strictly accurate, but for a blissfully funny, no-strings 90 minutes, it might be just what the doctor ordered.
Weinberger's infectiously enthusiastic manner is curiously innocent, and puts the audience at immediate ease. This is crucial; audience participation is central to the show, but by dividing the men and women into two sides of the intimate basement space, and by getting responses by a hum rather than a show of hands, he soon has the audience falling over themselves to respond.
Inspired by a lecture given to cardiac patients on when they could resume their sex life, the show charts the myriad minefields of human sexuality. Tongue firmly in cheek, and flipchart at the ready, the first half is a faux-lecture on how to achieve sexual misery, though this finishes somewhat suddenly. The second half is given over to "sexual healing"; a question and answer session. Questions are placed (anonymously) in a hat for Weinberger's consideration.
This rather slender show doesn't have any striking new insights into sexuality or sexual politics- indeed, some of the gender generalisations are Men-are-from-Mars-obvious, and a couple of punchlines feel slightly over-rehearsed. They're good gags, but having toured in English and German (with a stint at the Edinburgh Fringe last year), now lack the fresh spontaneity that would make them appear to be an off-the cuff response to a new question. However, the self-styled "sexologist" is a likeable and engaging performer who responds with glee to some good-natured heckling.
Weinberger also seems genuinely passionate about his central message; paraphrased, it's "relax, you're normal". Though not for the overly shy or squeamish, A Guide to Sexual Misery is the sort of entertaining, cathartic silliness which leaves the audience grinning.
Until 23rd May
Sacha Voit reviewed this show at the Duchess Theatre
Reviewer: Beth O'Brien