Shackleton's Carpenter
Gail Louw
Jermyn Street Theatre
–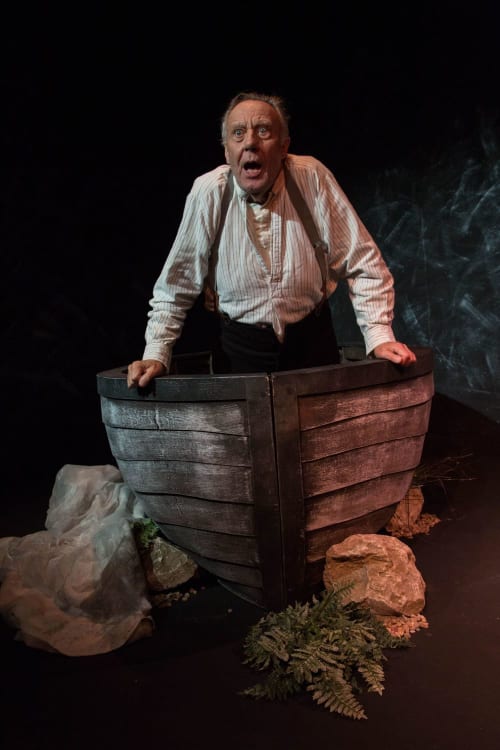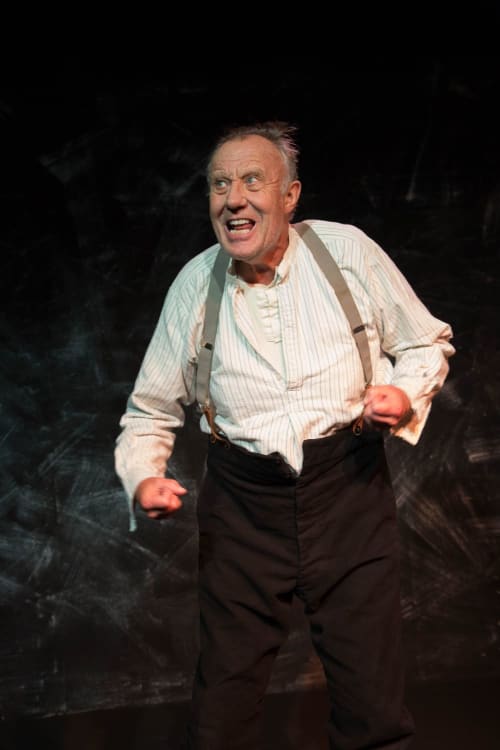 In 1914, as Europe erupted into war, Ernest Shackleton led an expedition which planned to cross Antarctica. Early in December, they sailed from South Georgia for the Weddell Sea but before reaching the continental landmass their ship, the Endurance, became trapped in the ice and drifted with it until the pressure of the ice broke up the ship and it sank. When the ice began to break up, they took to their lifeboats and reached remote Elephant Island and in one boat, adapted by ship's carpenter Harry McNish to make it more seaworthy, Shackleton and five others, including McNish, managed to reach South Georgia to fetch help.
They couldn't have made it without McNish's skill but when Polar Medals were awarded to expedition members, McNish was one of four denied them.
The play presents this background in brief as the end of a radio programme that also refers to McNish as being discovered destitute on a New Zealand waterfront.
A deft piece of theatre surprises the audience and takes them to the Wellington wharf where the elderly McNish wakes, or may still be dreaming. His resentment at the way he was treated is still strong, especially at Shackleton having his cat Mrs Chippy shot, along with all the dogs, including the puppies the whole crew were so fond of.
He sees a light and thinks he is being visited by Shackleton, by then dead and buried in South Georgia. He wonders how long it takes a ghost to travel from there and asks what it is like to be dead, before raging at Sir Ernest, reliving his Antarctic experience as he stands up to the Boss one last time.
Gail Louw's script is full of authentic detail, from Harry growing up in a Glasgow tenement to his problem with piles, characteristics of individual crew members: the pessimist Lees whom no one liked, the ones who played an instrument, McCloud who came to see him in hospital. He recalls the applause when cook Green gave a lecture (which he attended) and said they would never have survived without McNish, how he made a seaworthy boat with a mast from another one, how he sealed its timbers with a mixture of artists' linseed oil and seal blood, and tells whomever he believes to be listening how the men of the Wellington wharves make a monthly collection to help him.
It is a fascinating story and it is vividly presented in a virtuoso performance by Malcolm Rennie. With a gravelly voice, regularly refreshed from a bottle of whisky, he mounts a mixture of wild-eyed tirade ("You Shot My Cat!") and reminiscence that rarely lets up. With affection and distress, he misses little Nancy, his last partner's daughter who was so dear to him, and again Mrs Chippy, who wasn't a Mrs at all but a tomcat.
Though Shackleton is said to have been unusual for the time in socialising with expedition members and sharing ship's chores between his officers, scientists and seamen without the barriers of rank, there is still a strong feeling of the man from the tenement boldly confronting the gentleman. That McNish had rebelled against Shackleton's attempt to drag the three lifeboats across the ice to find open water (which ended in failure) did not help their relationship.
It is not easy to sustain an hour of solo performance at this intensity. There is a hint that Harry himself may not have been the easiest person to get on with: he doesn't tolerate others easily, especially their swearing. Rennie never lets up and the audience must keep up with him.
Originally directed by the late Tony Milner, this revival is dedicated to his memory and will be touring the British Isles during the autumn.
Reviewer: Howard Loxton