Shades of Brown
Rani Moorthy
Rasa Theatre Productions
Ustinov @ the egg, Theatre Royal Bath & touring
(2007)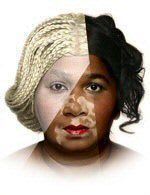 Rani Moorthy, whose last solo show, Curry Tales, toured to critical acclaim, has here crafted a challenging sixty minute exploration of what she sees as uniting so many women world wide: a sense of dissatisfaction with their skin's particular shade of brown or at least, the shade they would like it to be. In her four separate, colourful monologues, Moorthy paints with a broad palate, creating a piece of intelligent, engaging and provocative theatre. Frequently comedic and endearing, at times deeply moving and ultimately uncomfortable, its central message also lingers long after the curtain.
In the opening monologue, Moorthy presents us with a "Post-Apartheid Albino": a woman raised in chaos and hardship; set apart and castigated. Through all this she has arrived at an enviable self-awareness. Though not without her tribulations ("Two things touch me: UV and HIV"), she has an inner strength and a wisdom which is made as endearing as it is vivid by the inestimable combination of Moorthy's strength as a writer and instinct as a performer. "The troubles of this world are never black or white".
A slick costume change and the clearing of a few patches of white face makeup, and we meet the scientist who has devoted her life to the pursuit of a cure for the skin condition which, she comes to realise, dominates her life: vitiligo. Here too, Moorthy's writing is striking, as she realises she can no longer remain emotionally detached from her work, as even she cannot recognise herself in the image of the "little brown girl" playing in a village in India which she keeps in her pocket. She has lost her "tribe", her sense of self and in Moorthy's performance the scientist's sense of loss is both palpable and deeply affecting.
There is a strong auto-biographical feel to the third monologue: the Tamil woman reminiscing how she was the "darkest grandchild" born to her family, and reflecting how racism has been built into thousands of years of eastern culture, so that the evil forces in the Hindi religion are dark skinned; the light skinned are the good, the beautiful, those to whom children are raised to aspire. She wonders whether maybe mankind's ultimate destiny is "a master race of sameness", where tanning, bleaching and inter-breeding results in our morphing into one universal shade of brown.
The final monologue, in which we meet an Indian bride bleaching her skin on the eve of her wedding, feels redundant: everything which needs to be said has already been said by this point. But in general, this is a strong, thought-provoking piece of writing and an impressive, affecting performance.
"Shades of Brown" tours to Coydon Clocktower 25 October and West Wing, Slough, 26 & 27 October
Reviewer: Allison Vale