Shadowlands
William Nicholson
Birdsong Productions in association with the Yvonne Arnaud Theatre
Richmond Theatre
–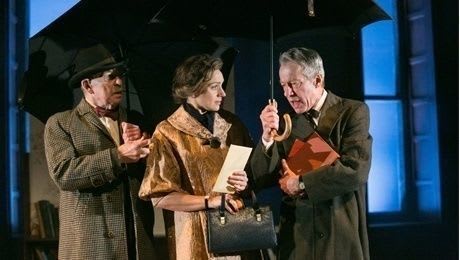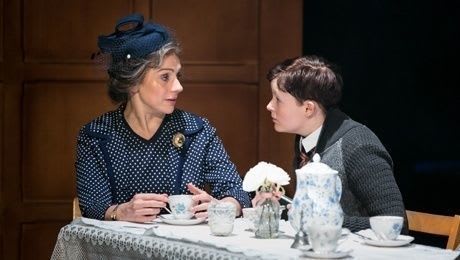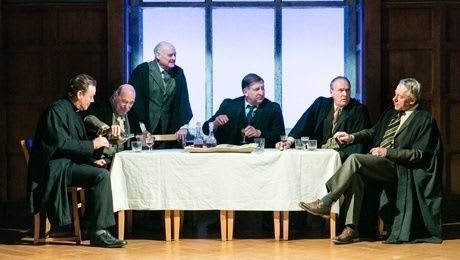 This is a somewhat fictionalised and simplified version of the friendship between Oxbridge academic C S Lewis and American writer Joy Gresham but, like the film based on this script, it follows fact in showing their transatlantic correspondence growing into friendship then flowering into love.
William Nicholson frames his telling with Lewis delivering lectures on Love, Pain and Suffering which become addressed to the audience. Pondering why God (whom he draws on the blackboard as a benevolent fellow puffing a pipe) should inflict/permit suffering—eventually seeing it as an unavoidable part of love. This is in a sense the play's subject too, though its dramatic arc traces Lewis's journey from the misogynist, bachelor world of the 1950s don to devoted husband.
It is difficult to imagine that anyone would drag themselves and their child to Oxford just for a teatime ten-minute chat with a philosophical theologian. After getting to know each other in letters, surely she and Lewis would have had more to say to each other, but these scenes stand for much more than their brief moments. They emphasise the contrast between the man who, when asked when he last spoke to a women, cited a lecture he had recently given to a women's organisation and the American lady who talks nineteen to the dozen.
Forget his misogynist colleagues (well played by Richard Holliday, Simon Shackleton, Ian Marr and Jeffrey Harmer), Lewis's remark is surely tongue-in-cheek. The play makes no reference his enigmatic relationship with Jane Moore, mother of a World War One comrade killed in action, whom he had promised the dead man he would look after. Stephen Boxer's sensitive portrayal of Lewis may show a gentlemanly reticence but is by no means lacking in feeling, though his strict Christian principles may prevent him from at first admitting it.
In the same way, the ebullience and volubility of Amanda Ryan's Joy hide strong feelings. Both parties present a front of propriety, though from what we are shown, however deeply felt, this loving relationship does not necessarily become sexual. What is plain is that it brings them both happiness.
As the play progresses, Boxer and Ryan show their bond growing. Their civil marriage may be a resort to allow Joy to stay in Britain, but it is not just its flouting of strict sectarian attitudes that makes them keep it unknown but a childlike love of secrecy too. Complicit, of course, is Lewis's retired soldier brother Major Lewis (Warnie), with whom he shares his home. Gently played by Denis Lill, this is the uncle of whom all boys surely dream.
Alastair Whatley's direction is simple and straightforward, set by designer Anne-Marie Woodley within an enveloping academia but trucks and minimal furniture allow scenes to change rapidly and smoothly while Alex Wardle atmospheric lighting concentrates focus. The emphasis is almost always on the actors and his three leading players make the Lewis household seem a very real one.
Joy's son Douglas, played by Shannon Rewcroft, is an enthusiast for Lewis's Narnia books and ideas are sometimes expressed through a vision of Narnia. They didn't work for me (perhaps because I don't share the boy's enthusiasm), nor does she entirely convince as a boy, partly because although the action takes place over 8 years he never seems to grow up at all (though he does eventually go into long trousers).
Narnia is seen as a kind of Christian analogy but an effect looking like discreet Christmas pictorial lighting jars with the presentation of a man who declares, "prayer doesn't change God, it changes me," a man who movingly accepts that, "if you want the love, you have to have the pain."
Lewis speaks of this life as Shadowlands compared with what is to come but he could also be speaking of life before the love that he shared with Joy Gresham.
Reviewer: Howard Loxton