The Shadowmaster
Adapted by Stephanie Sinclaire from J.M. Barrie's Dear Brutus
Kings Head Theatre
(2008)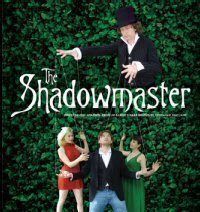 Why revive J.M. Barrie's play first staged in 1917? In this rather whimsical piece an elderly gentleman called Lob, the name of a north-country spirit rather like Shakespeare's Puck, invites a number of house guests who neither know him or each other to stay for Midsummer Night. He sends them off into a magic wood where they discover what life could have been like if at some earlier time they had made some critical different choice. In a programme note director/adapter Stephanie Sinclaire refers to the way in which recent treatments of Peter Pan have explored Barrie's material underlying meanings. She presumably sees similar possibilities with this play which gives its characters the glimpse of a 'second chance' and posits the concept that is not fate but ourselves that shapes our lives. (The play's original title comes from Shakespeare's Julius Caesar: 'The fault, dear Brutus, lies not in our stars but in ourselves that we are underlings.')
I have never seen Barrie's original staged. In my early days in theatre my elders seemed to speak of it with affection and as a success but a first look at the text before seeing Sinclaire's version did not impress me. In some ways her adaptation seems a definite improvement. She has changed or added a few things to make it contemporary, put into the dialogue information in text comments that are only available to the armchair reader and cut an older couple among the guests which saves salaries and crowding this small stage. Much more importantly she has made Lob not just the odd, seemingly ageless creature who is somehow the instigator in the background but starts the play with him and makes him clearly the magical controller of all that is going on: the Shadowmaster of her title. His butler Matey, though also a victim of his stratagem, she makes much more complicit and himself somewhat magical, though since he seems human his tricks rely are prestidigitation rather than supernatural skills and Neil Henry performers them skilfully.
Barrie's other characters were the sort of bourgeois upper middle class who were his theatre audience and Sinclaire's give a contemporary twist to that with considerably raunchier behaviour. At first they do seem rather mechanical stereotypes; it takes until the second act for the actors seem to get the measure of them and turn them into personalities. Indeed in the second act things begin to come together, especially in a moving scene - which stays close to the original -- in which Will (Bill Geraghty), an unsuccessful artist living off his wife and heavily into drink, finds himself soberly successful and the single-parent father of the little daughter he always wanted. The little girl is, like Peter Pan, a child who will never grow up in the real world but I found her discovery that 'great gladness is somehow so very close to great sadness' a much more real aphorism than Pan's 'dying must be an awfully big adventure.'
This version, which is greatly aided by Greg Patmores's music, makes Barrie's tweeness into something much more theatrical and seems to suggest slightly more positive hope than does the original that we can change ourselves. It kept its audience amused and attentive but on this showing it is no great rediscovery.
At the Kings Head until 7th September 2008
Reviewer: Howard Loxton