Shafted
John Godber
John Godber Company and Theatre Royal Wakefield
Marylebone Theatre
–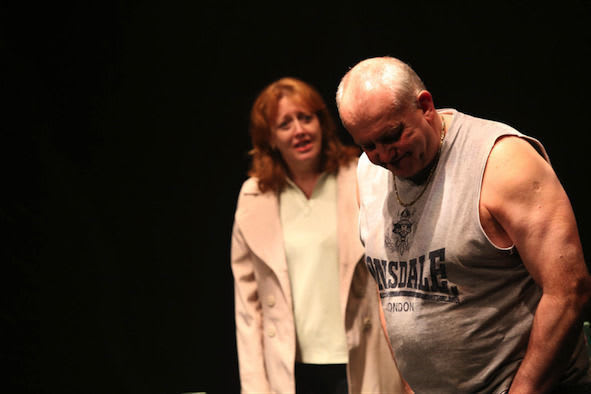 It is more than three decades since the Miners' Strike of 1984-5 when Prime Minister Margaret Thatcher set out to wield a blow that would weaken British trade unionism and brought a near end to British coal mining.
Some of you reading this will not have been born but, for many who remember it, her handling of the strike marked a traumatic point in the Thatcherite denial of the existence of such a thing as Society and the dominance of a capitalist economy. The scars are still evident, for some not healed scars but still-festering wounds.
Documentaries by Ken Loach, Billy Elliot and the 2014 film Pride are among work that has been about the strike but John Godber marked its thirtieth anniversary with this play about its ongoing legacy, the effect on those the Iron Lady so determinedly defeated.
On a simple set with union banners above it, some wing flats, a green garden gate (replaced by a bench for the second act) and a couple of dustbins, Godber romps through the years in the life of bickering couple Dot (Jane Thornton) and Harry (John Godber), date and location displayed to identify each scene as the play travels first forward then backwards.
It starts off in 1984 in Upton, a mining village in West Yorkshire that happens to be Godber's own birthplace. Harry is confidently declaring, "the miners united will never be defeated," but by the next scene that dream has been shattered. As he leans dejectedly over the gate, there are still people relying on soup kitchens to keep themselves going.
Out of work, too proud to work for the council, living off his redundancy payment (£18k after 30 years in the pit), but eventually he goes out with his stepladder to clean windows, though a 1990 trip into Wakefield looking for customers sees it full of other Upton blokes doing the same thing.
Things get worse, drink and pot don't help, and he's been put on pills while wife Dot has taken on two jobs. She's fed up wants to sell the house, start a B & B in Bridlington but he wants to stay put. "We've got roots," he says, but she's about to walk out on their marriage.
Though the subject is serious, the situation tragic and Shafted an outcry at the plight of the miners, it takes the form of comedy. It is a delightful portrayal of a bickering couple whose conflict is the façade for true affection.
The playing, from Godber especially, is very straight-faced and, while some northerners in the audience were laughing freely, the main response was more muted, perhaps not feeling laughter appropriate to the circumstances, but it is a play that is simultaneously funny and moving and Harry's anger and resentment, when it surfaces, is still raw.
The humour got a warmer response in the second half, which starts out in 2014 and moves backwards, a reversal in more ways than one but to say more would be a spoiler. This isn't just the story of one redundant miner but that of whole communities. In Dot, Godber (and Thornton) capture the resilience of their womenfolk while his Harry shows just how deeply they were affected and under the surface the writing still seethes with anger.
Shafted is the first professional production to be presented at this relatively new theatre, tucked away in the narrow back streets of Marylebone. Created by Regent's University, initially for the use of its own students, its resources appear to be limited but it provides a new central London venue for small-scale productions.
Reviewer: Howard Loxton