Shake The City
Millie Gaston
Rachael Halliwell
Greenwich Theatre
–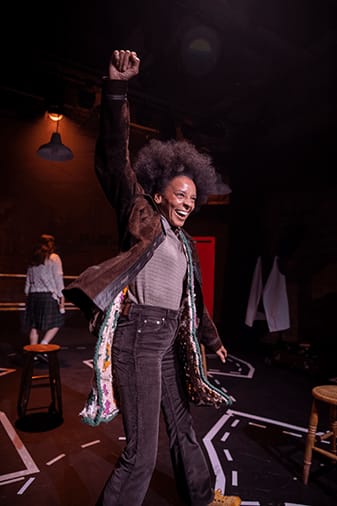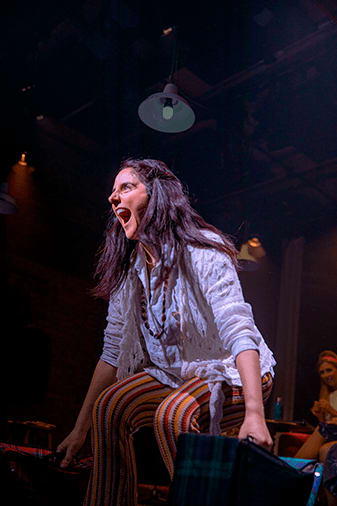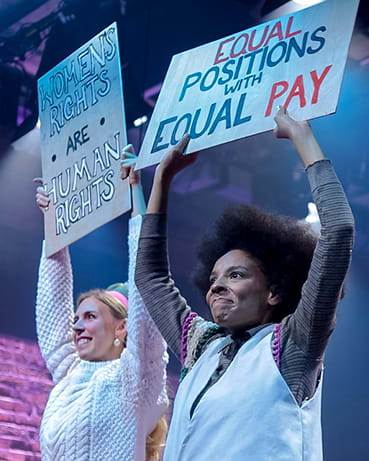 Some good blows were struck for UK women's rights in February 1970. Thousands of clothing workers, mostly women, walked out of their Leeds factories on an unofficial strike against the employers paying women less than men for the same job. Later that month, the first National Women's Liberation Conference in the UK took place in Ruskin College Oxford making one of its demands equal pay for women and men.
Shake the City gives us an uplifting glimpse of these events through the experience of four Leeds women, taking us through the rumblings of discontent in 1969 to the protests of 1970.
The show opens with them dancing to the stage, occasionally engaging en route with the audience. Elizabeth Robin as Wendy stands at the mike, singing. Although she works as a machinist on clothes, she has ambitions to become a professional singer and move on from Leeds.
Her friend Heather (Emma Leah Golding) has already found an exit, having secured a university place in Oxford. But they promise to keep in contact.
After work, the pair regularly join two other women from the factory in a pub to form an informal Women's Liberation Movement group that swaps stories and generally opens up about their lives. The group was set up by Margaret (Rachael Halliwell), who, though made into a factory supervisor, finds she isn't taken very seriously by the men. They refer to her concern about equal pay as a hobby.
Lori (Courtney George), a young black woman, is the fourth member of their group. She has to combine being the carer of a sick mother with working full-time in a factory. Although more assertive and sharper on the need for workplace action than the others, she occasionally becomes frustrated by their failure to notice racism.
Heather's early days at Oxford are marked by a different kind of prejudice as other students exclude her from their friendship circles and even make crude jibes about her Northern accent.
However, the struggles of February 1970 change the mood for all of them. The show is a vivid picture with songs of four believable fictional women characters learning to care for each other in a time of change and hope. It should be seen in every workplace. I suspect the employers wouldn't be very keen, but I think I know what the women workers of Leeds 1970 would have done about that.
Reviewer: Keith Mckenna