Shakespeare:Direct - Shakespeare's Cue Method

the salon:collective
The Rose Playhouse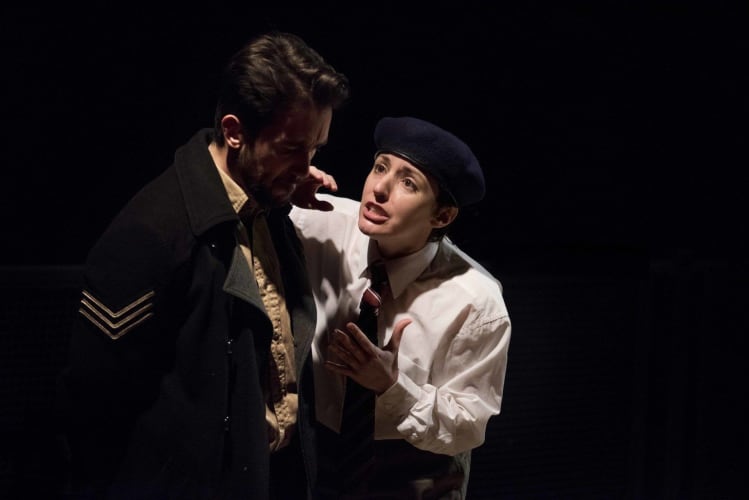 History was made last night when, amidst the remains of the Rose playhouse on London's Bankside near Shakespeare's Globe, extracts from Shakespeare's plays were performed by the first modern-day actors to do cue script work on the site following a process of rediscovery by Patrick Tucker in the 1990s.
In Shakespeare's day, common practice dictated that a player/actor be given their part only, take it home to learn, and perform it the next day. Unlike today's group rehearsals, the actor would know their 'cue' by having been given (and having to learn) the last few words of the preceding actor's line.
Led by actor/teacher Lizzie Conrad Hughes from the salon:collective (a London training enterprise for actors/writers run with Dewi Hughes and Artistic Director Dominic Kelly), twenty performers took to the tiny stage having formerly learnt their parts singly and only being told who they would be acting with half an hour earlier.
Over ninety minutes, scenes were taken from Antony and Cleopatra, Henry IV Part One, As You Like It, Cymbeline, King John, Romeo and Juliet, Coriolanus, All's Well That Ends Well and Twelfth Night, each separated by a bell, and with proceedings ending on a traditional jig.
The use of a book-prompter recalled traditional stage practice and meant that any unplanned dramatic pauses seemed to mirror the uncertainty and fragility of speech: the call for 'line'—an acceptable part of early modern stagecraft—created an urgency, immediacy, and excitement that brought the audience into the heart of the creative process.
The biggest revelation was the importance of listening. The multitude of references to hearing in Shakespearean drama (often found in inductions and prologues) confirms that hearing a play mattered greatly. Actors using this method, then and now, must remain alert to their cue: the production depends on it.
This was a one-off event but a future run at the Rose would surely be welcome as a fine introduction for schools, and as a way for scholars and Shakespeare lovers to experience lines performed as close as possible to how it was then. The salon:collective resumes the experiment at its regular London home—the Cockpit—in May.
Last night's proceedings were enriched by the star of the show: the Rose. Its foundations and artifacts from 1587 were famously saved from demolition in 1989. It is through Philip Henslowe (the original owner) and his diary that theatre historians know so much about pre-modern stage practice and culture.
Unlike the Globe—wonderful though it is—the Rose is no replica. The boards that we tread on were quite literally trodden by Shakespeare, Christopher Marlowe, et al. Which makes it all the more shocking that this late Tudor playhouse—unique in the world—is slowly sinking into its surrounding mud and may be lost within months if the campaign to finish excavation and renovate does not meet its £7m target.
Forthcoming productions include King Lear in April and Macbeth in May. Meanwhile, it is hoped that interested parties will infuse this little playhouse with the funds it needs to let it bloom for future generations.
Reviewer: Anita-Marguerite Butler