Shakespeare's Avengers Assembleth: All's War That Ends War
Callum Moffat and Plum Grosvenor-Stevenson
Drake's Drummers
Barbican Theatre, Plymouth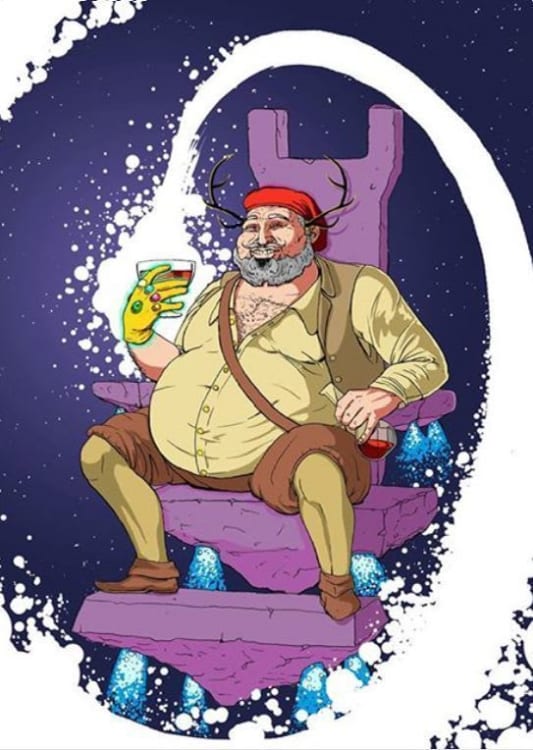 Plymouth's bi-annual Fringe Festival threw up some excellent one-nighters in a diverse programme of events across five venues last week.
The stars of the 2017 festival for me were homegrown award-winning Drake's Drummers who, in the five years since inception, have toured the UK and had success both nationally and internationally. Its Shodyssey was innovative and hilarious.
So I was ready for another hour(ish) of zaniness and sharp observations with Shakespeare's Avengers Assembleth: All's War That Ends War, and it did not disappoint.
Second in the company's Bardland trilogy, and inspired by comic book superheroes, SAA:AWTEW was originally produced for Shakespeare's Birthplace Trust and a knowledge of the Bard's works certainly enhances the piece.
The conceit is that war has torn Bardland for eons and winters last almost as long as King Lear. Mad Prince Hamlet (Plum Grosvenor-Stevenson) and sassy Juliet Capulet (Josephine Helen) have claimed the North for the Tragedies while the Histories control the South under the leadership of destined-for-a-car-park-in-Leicester) King Richard III (Callum Moffat).
Both sides refuse to acknowledge that the Comedies are anything but boring so angering Sir John Falstaff (John Archer) who has a mission of his own to complete—the finding of the five Stones of Shakespeare which together will re-forge the fearsome Infinity Boot (though in the melee, I lost sight of what that would mean for Bardland so relying on the blurb…) and the birth of a new bard.
A busy cast of four play some 11 or more characters with the help of a couple of hobby horses, a skull and various cloaks as Julius Caesar is on the cutting edge of change thanks to a quick rock, paper, scissors in the wings; Henry V is less than impressed with the breach and wants to move away; Macbeth believes killing is the answer to everything as Agincourt is dognapped, Coriolanus is Iron Man, Petruchio's How To Tame Your Shrew is on the bestseller list, genocide is a step too far while—talking of Steps—flossing torture is a real Tragedy.
The ring of disappearing and reappearing makes a brief appearance; Hamlet is pushed to almost to the point of soliloquy; Romeo's cloth-like personality is doomed to greatness while the Scottish due ponder the lack of a first name… the daftness goes on and on.
So much crammed into a brief hour with much mucking about, running through and downright silliness, Callum Moffat and Plum Grosvenor-Stevenson are a clever and quirky writing force—and I look forward to their next.
Reviewer: Karen Bussell