Shakespeare's Sonnets

Illuminations with Touch Press, Faber and Faber and The Arden Shakespeare
Released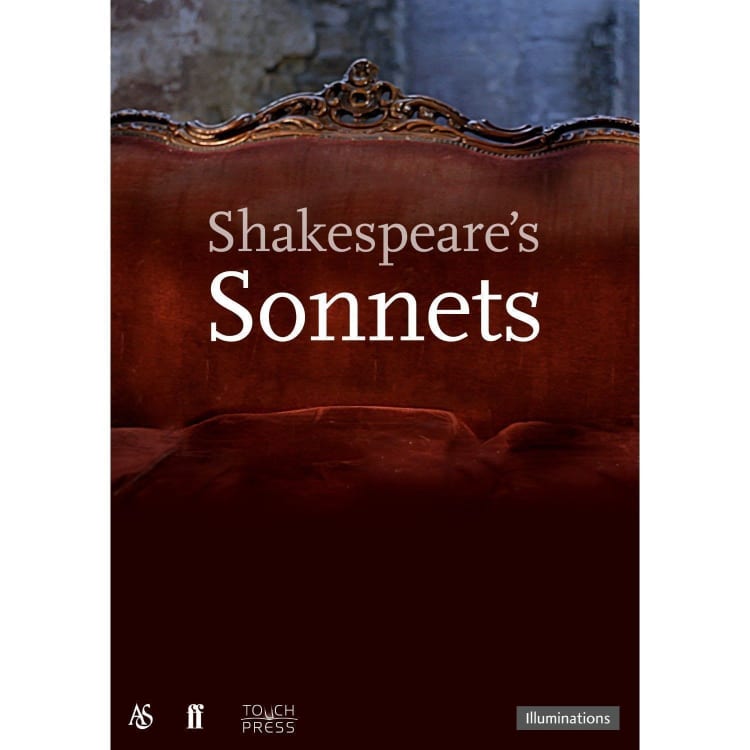 Earlier this year, Touch Press collaborated with Faber and Faber on an iPad app of Shakespeare's sonnets following its earlier success with a similar app for T S Eliot's The Wasteland.
The app features the text of all 154 sonnets accompanied by videos of them being spoken by leading actors, poets, voice teachers and theatre academics, plus commentaries, Arden Shakespeare notes, a complete facsimile of the 1609 quarto edition of the sonnets and facilities to share your favourite sonnets by e-mail, Twitter or Facebook.
Now the videos are available by themselves on an old-fashioned DVD with a colour booklet giving a picture and biography of each speaker and the first line of each sonnet that he or she speaks.
The cast list is certainly impressive, including the actors Stephen Fry, Patrick Stewart, David Tennant, Harriet Walter, Siân Phillips, Kim Cattrall, Oliver Ford Davies, Simon Callow, Fiona Shaw, Jemma Redgrave and many more, plus leading Shakespeare scholar and author James Shapiro, former Poet Laureate Andrew Motion and the RSC's notorious voice teacher Cicely Berry.
The DVD menus allow you to select a particular sonnet by its number or to select a specific speaker. There is also a "play all" facility, but this didn't work for me as it played a small selection before going back to Patrick Stewart reading the opening dedication and playing just that on a loop.
There is no question about the quality of the recordings or the performances which make this DVD a worthwhile purchase for any fan of Shakespeare or poetry.
What I would question is the pricing. For £14.99 you get a great DVD with some of the leading actors of the day speaking Shakespeare's verse, but if you have an iPad you can get all of that and a lot more for just £9.99, plus the videos can all be viewed, albeit not in the same video quality, on the app's web site for free. I've no doubt the publishers can come up with practical reasons for this about the cost of producing a physical product over a digital download, but still from the consumer's point of view it feels like you are paying more for less.
But if, like me, you don't have an iPad or you still want to own a physical product that you can play on your TV rather than those intangible ones and zeros floating around in your computer, this is worthy of a place in any Shakespeare enthusiast's collection.
Reviewer: David Chadderton